Thank you Joel Cross
Posted by Jonathon Parker on 1 September 2021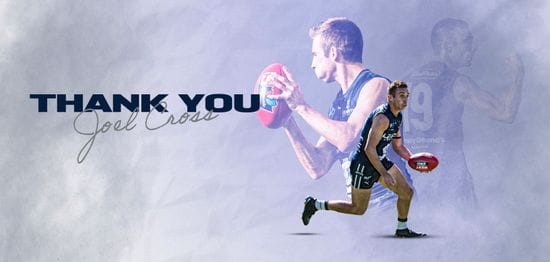 Dual Magarey Medallist Joel Cross will hang up the boots at the end of the 2021 SANFL Season.
Cross advised the club on Monday afternoon that he will call time on his incredible career at seasons end.
The 34-year-old told his team mates at Training on Tuesday night.
South Adelaide CEO Neill Sharpe, who was previously the Football Manager and was a key part in recruiting Cross from Scoresby, reflects on his contribution to the club.
"He's been a pretty significant player of the club over the last 11 years."

"Since coming to the Panthers in 2011, Joel has given the club his heart and soul and is definitely a crowd favourite. I don't think it is unfair to say that Joel is a modern day great of the club which is certainly shown by his long list of achievements."

"His image is etched amongst the greats on the South Adelaide Mural, which will be there for as long as the football club is."

"We've got unfinished business over the next couple of weeks, and Joel is a key part of that."

"I urge all members and supporters to get down to Flinders University Stadium on Saturday afternoon to not only help get the boys over the line, but to also see Joel's last game at Flinders University Stadium."
When talking to the group on Tuesday night, Cross highlighted the impact the football club has had on his football journey.
"The football club has been a significant part of my life."

"I was pretty lucky to find a club that would welcome me in. I realised pretty early that whatever I gave to South, I got back."

"I thank all the players, coaches and everyone who has been involved, it's the people who make a football club and without a fantastic group of people the club wouldn't be in the position it is in now."

"To the members and supporters, you have welcomed me with open arms over the last 11 years, and I thank you for sticking by me as well as the club."
Earlier in 2021, Cross joined elite company when he notched up his 200th SANFL Statewide Super League match against Norwood in round 10.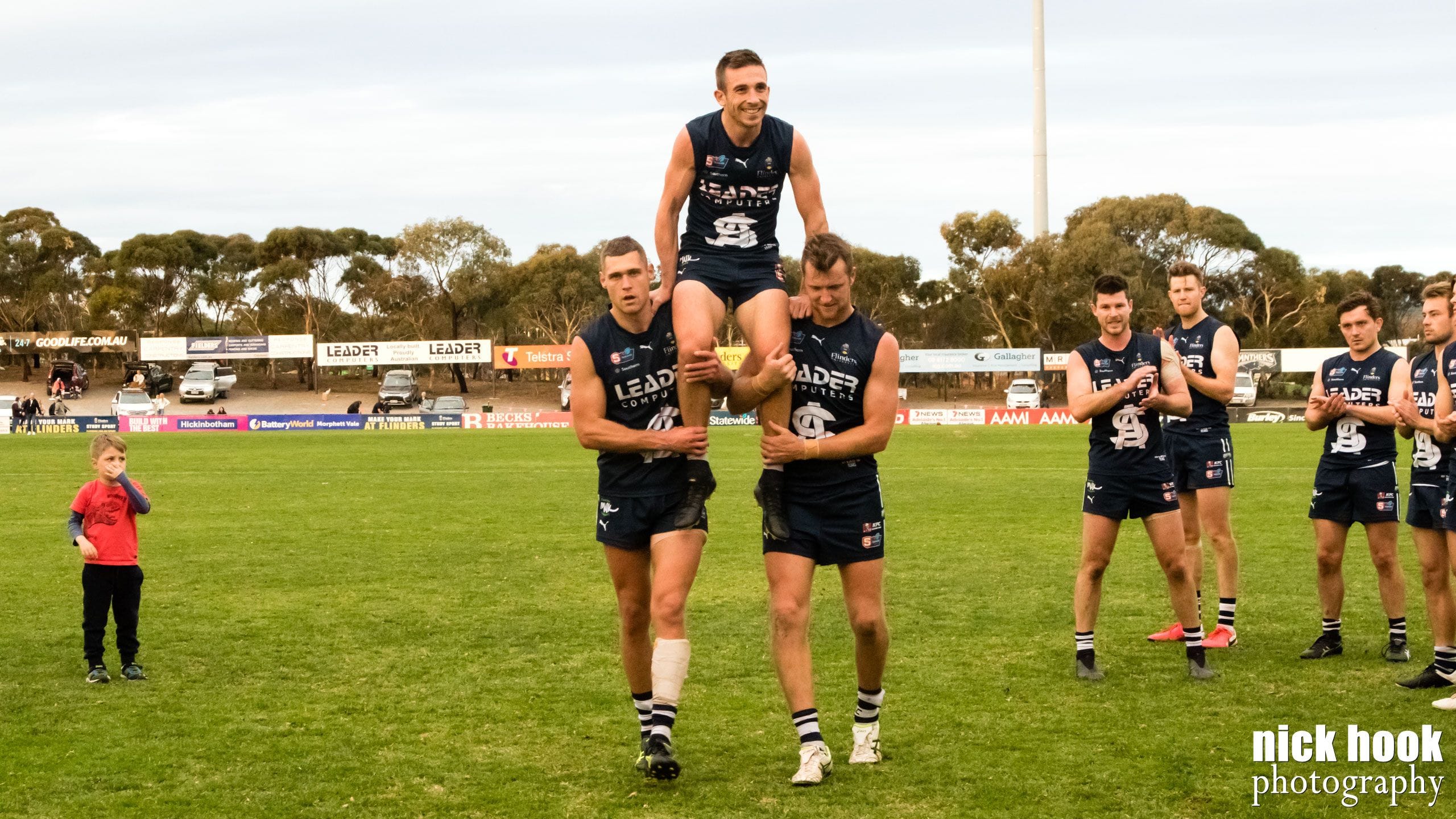 King Cross: Joel Cross gets chaired off the ground after his 200th SANFL Statewide Super League match by Alex Caliotto and Sam Overall. Image: Nick Hook Photography
Senior Coach Jarrad Wright also highlighted Cross' incredible contribution to the football club.
"There's no doubt that Joel is a champion of South Adelaide."

"We've got five weeks left, and we should have the motivation and belief that we can win it."

"The effort and commitment that Joel has provided the club over the last 11 years is pretty incredible."

"It's been a pleasure to coach Joel over the last four years. He's taught me a lot as a coach, so congratulations to Joel on a fantastic career."
The dual Magarey Medallist has achieved a lot over his stint at the Panthers, since making the move from Scoresby in Victoria in 2011.
Cross has an impressive list of accolades which consists of four Knuckey Cups and five-times runner-up, two Magarey Medals and two RO Shearman Medals (voted on by SANFL Coaches), four State Team and eight Advertiser Team of the Year selections, including being named as captain in 2020.
Cross' form hasn't dropped as he has consistently still been one of the Panthers top performers in 2021.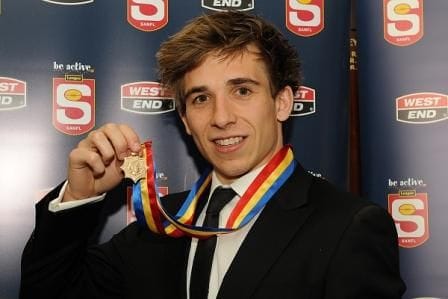 Joel Cross wins his first Magarey Medal in 2012
In 2019 Cross was inducted as a South Adelaide life member and earned his fourth Knuckey Cup later that year.
The South Adelaide Football Club thanks and congratulates Joel on a fantastic career and wishes him all the best for the next stage in his life.
Joel Cross
204 games for South Adelaide*
168 goals*
2x Magarey Medallist (2012 & 2015)
4x Knuckey Cup winner (2011, 2015, 2016 & 2019)
5x Knuckey Cup runner-up (2012, 2013, 2014, 2017 & 2020)
2x R.O. Shearman Medallist (2015 & 2017)
4x SANFL State Team selection (2013, 2014, 2015 & 2016)
8x SANFL Advertiser Team of the Year selection (2011, 2012, 2014, 2015, 2017, 2018, 2019 & 2020)
1x SANFL Advertiser Team of the Year Captain (2020)
2x SANFL Advertiser Player of the Year (2011 & 2012)
Club captain (2018-2020)
OnSite Rental Group Fans MVP (2020)
Players player (2019)
SAFC Life Member (2018)
Leading Goal Kicker (2019)