The Frank Barry Medal
Posted by Matt Sampson on 24 April 2019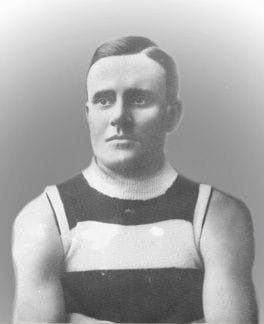 South Adelaide will celebrate Anzac Round this season with the inaugural presentation of the Frank Barry Medal following the Panthers Anzac Round clash with Sturt on Sunday afternoon.
In a new Anzac Round tradition, a Medal will be presented to the South Adelaide player whose conduct and play during the game best demonstrates the qualities of skill, courage in adversity, self-sacrifice, team work and fair play that befit the Anzac Spirit.
The Medal has been named after South Adelaide's first Magarey Medallist, Frank "Dinky" Barry, who was awarded South Australian football's highest individual honour as the competition's 'fairest and most brilliant player' in 1915.
A brilliant rover, he was known for his strong mark, cool and calm approach, precision with hand and foot, and his love to run and baulk.
Barry went on to serve in World War I, embarking with the First AIF to serve in France.
Upon leaving his is quoted as having said, "I hope to do as well at Gallipoli as on the football field, and if VCs are about, I will be a trier".
He fought in the horrific conditions and carnage of the Western Front and achieved the rank of second lieutenant. During this time Barry contracted trench foot, requiring periods of time in hospital, and despite surviving the war would never return to playing football due to complications with his foot.
Sadly, the whereabouts of Barry's Magarey Medal are unknown.
The legend goes that Port Adelaide's Sampson 'Shine' Hosking, who lost the medal to Barry on an umpire's countback, challenged Frank on his medal win, after which Barry retorted, "you can have it!" and threw the medal at him.
Due to the brevity of his career, Barry was not considered for the 'Greatest South Adelaide Team' and is not in the Panthers Hall of Fame. It is fitting his legacy at South Adelaide will now be honoured through this new medallion.
Post-war Frank did briefly coach a Barossa Valley team, while he also managed a River Murray fruit block before settling in Wayville and working for the SA Produce Board. However, Frank's love for football remained and was indeed returning home from a SANFL game in 1963 that he sadly suffered a heart attack aged 70.
The Barry name has long been linked with the South Adelaide Football Club. Great-nephew George served as a drinks steward for 21 years and is now a Life Member. George's son Brett played junior grade premierships and daughter Kelly worked for the club.
Frank's great grandson, John Barry will present the Medal on behalf of the Barry family after the Panthers Anzac Round game.