The Suburban Footballer is coming to Noarlunga!
Posted by South Adelaide Football Club on 25 October 2017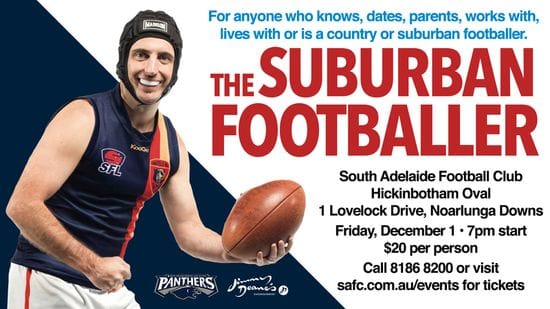 For anyone who knows, dates, parents, works with, lives with or is a country or suburban footballer, Tom Siegert's one-man show of sketches and one-liners is sure to have you in stitches!
The social media sensation from Melbourne, who has over 55,000 Facebook fans, is bringing his live show to Noarlunga and is not one to miss.
"He had the whole footy club in stitches" - Dustin Fletcher.
"A very funny man, who knows his footy" - David Schwartz.
The Suburban Footballer - Tom Siegert
Date: Friday, December 1
Time: 7:00pm start
Venue: Peter Darley Room - Hickinbotham Oval
Price: $20 per person - cash bar available
Tickets: available hereor by calling the Club on 8186 8200
Author:
South Adelaide Football Club