Tom Fields heading home
Posted by Matt Sampson on 4 December 2018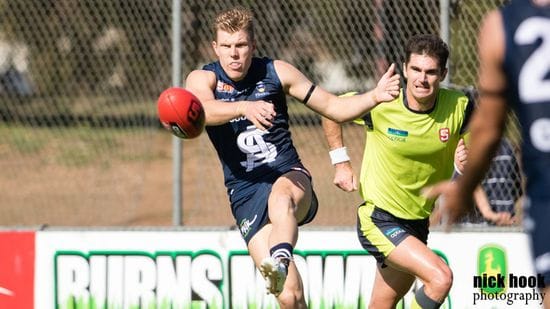 South Adelaide defender Tom Fields will depart the club in 2019.
Fields, who has played 88 games for the Panthers over two stints, has advised the club that he will be heading home to Queensland next season.
Recruited from Labrador in the NEAFL, Fields joined South Adelaide in 2013 and by the end of 2014 found himself rookie listed by Carlton.
After one season and two games with the Blues, Fields brought his long-raking left boot back to Noarlunga and played a further three seasons.
The 25-year-old will return to the NEAFL after agreeing with terms with the Southport Sharks.
Young defender Robert Irra will also depart the club and line up for OSB/Lonsdale this season after making his senior debut and playing three League games this season.
Meanwhile, midfielder Adam Hunter has advised he will return to Mt Compass in 2019 after notching 26 games with the Panthers since making the move from the Bulldogs in 2017.
The Club thanks Tom, Robert and Adam for their dedication and effort throughout their time in Noarlunga and wish them well in their future endeavors.