Trevor Mitton - Family Connection
Posted by Jayden Bartlett on 31 August 2021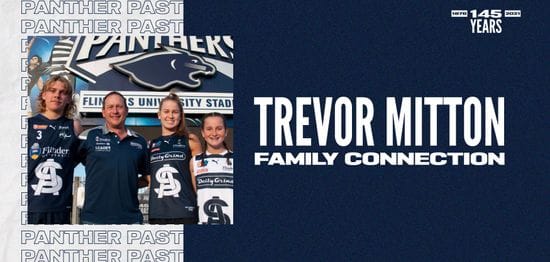 As a club that is 145 years old, the South Adelaide Football Club is no stranger to having family connections amongst its players.
Yet many may not have realised the extent of Trevor Mitton's connection with the Panthers' SANFL and SANFLW sides.
Trevor Mitton played 70 senior games and recorded 74 goals for South Adelaide from 1989 to 1995.
Included in his playing career was the 1991 SANFL Foundation Cup win over Port Adelaide.
Despite hanging up the boots for the Panthers' senior side after Round 12, 1995, Trevor has remained involved with the club through the South Adelaide Past Players and Officials Association.
"It's fantastic, I'm sort of at that age where I know some younger guys but still have that connection with the guys that coached me and were involved with me many years ago," Trevor Mitton said.

"So, it's a good place to be, everyone's pretty excited about what's happening, and hopefully we get that elusive Grand Final and premiership sooner rather than later," he said.
However, Trevor's connection with the South Adelaide Football Club runs much deeper than his playing career because he is a part of a proud Panther family that includes a trio of next-generation footballers.
He is the uncle of Luke Mitton and cousin of Mark Charlton who is the father of Teah Charlton and Emma Charlton, three talented Panther products that are at different stages of their exciting footballing journeys.
Luke Mitton, the 2021 Round 15 Under-18 MVP, made his South Adelaide Reserves debut in Round 12 this year against Sturt.
Teah Charlton, the fourth pick in the 2020 AFL Women's Draft, played in the Panthers 2019 SANFLW Premiership which was the same that she also earned Under-18 All Australian honours. Charlton also took home the 2020 South Adelaide Women's Best and Fairest.
Following suit, Teah's younger sister Emma has also recently earned herself a spot in South Adelaide's Junior Female Pathway.
"It's absolutely fantastic, very proud of them all. My cousin Mark and my brother John are very proud of them as I am. The whole family is proud of them," Mitton said.
Luke, Teah and Emma are all either currently involved with or products of South Adelaide's Junior Pathway.
For instance, before getting drafted to the AFLW, Teah played in several of South's SANFL Under-17 Girls Premierships.
Trevor, who has been involved with the Southern Football League for many years, has noticed the change in attitude towards wanting to be a part of South's pathway and donning the famous blue and white.
"At the moment, the reports I'm getting back is that people want to be at the South Adelaide footy club," Mitton said.

"Which has not always been said, so I think that's a real positive."

"It's good to see my family members coming through, but I think it's more important that there is that pathway that people want to be proud of," he said.
South Adelaide's Junior Pathway has gone from strength to strength in recent years, with the Under-18s making back-to-back Grand Finals in 2018 and 2019, the Under-17 Girls winning four consecutive Premierships, and the Under-16s claiming the 2021 Premiership.
"That's what we really tried to work on the last few years is getting people to want to be at South Adelaide and the vibe around the clubs in the Southern League that is that they want to be South Adelaide players," Mitton said.

"It's been a long-time because kids grow up being Crows or Port supporters, we grew up as SANFL supporters … so I think it's going in the right direction."
The family club. Luke Mitton (back left), with his Uncle and former Panther player Trevor Mitton (back right), Adelaide Crow and Panthers Talent Pathway product Teah Charlton (front right) and her sister and South Adelaide U14G Development Squad member Emma Charlton (front left).