Vale Alexander Aurrichio
Posted by Jonathon Parker on 9 June 2020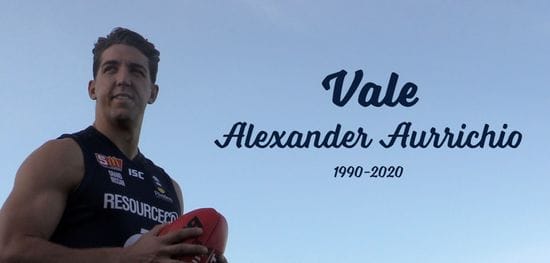 Vale Alexander Aurrichio
The South Adelaide Football Club is devastated to learn of the passing of former player, Alexander Aurrichio, following a bicycle accident in Darwin.
Alexander Aurrichio, or 'Rooch' played eight games for the Panthers from 2017-2018, but he leaves an impact far greater than the eight League games he played.
Originating from New York in the USA, Alex played for the Northern Blues in the VFL from 2015-2016 before he made the switch to the Panthers.
Through some contacts of former Panthers' coach Brad Gotch, Alex was able to make his way to Adelaide prior to Round 1, arriving on the day of his first game for the reserves on April 7, 2017.
Over the next couple of seasons, he would make a lasting impact with his teammates, staff and would quickly become a fan favourite thanks to his larger than life personality and iconic mullet.
At the end of the 2018 season, Alex would seek further opportunities in the NEAFL with the Southport Sharks, joining former Panther Tom Fields, where he would play 4 games for the Sharks in 2019.
Rooch had a love for adventure off the field, taking every opportunity to explore Australia when he could, with his AFL odyssey recently taking him to Darwin to play with Waratahs in the NTFL.
Our deepest condolences to his parents Lou and Jill Aurrichio and family, current and former team mates and his many friends during this extremely difficult time.
Alexander Aurrichio
South Adelaide Player: 1730
Debut: Round 13 vs Glenelg 15/07/2017
Games: 8
Goals: 5