Vale Gary Mousley
Posted by Jonathon Parker on 22 October 2020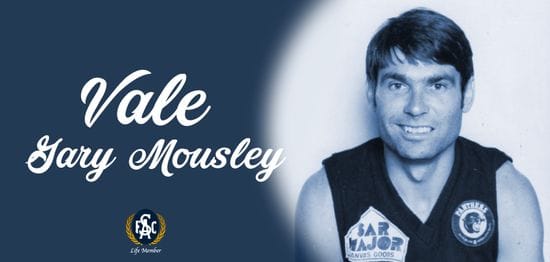 The South Adelaide Football Club is saddened to learn of the sudden passing of former player Gary Mousley.
Gary 'Spider' Mousley has had a long association with the South Adelaide Football Club, as a 15-year old Spider played in the South Adelaide Cubs 1966 Premiership against Edwardstown.
Four years later he went onto join the senior side in 1970 playing for two seasons, before heading to Edwardstown in 1973 where he would ironically win a premiership against the team he'd beaten 7 years earlier.
In 1974 he returned to the Panthers where he would go on to play 212 games, including the 1979 Grand Final. Gary moved to Sturt in 1982 and played a further 3 League games.
Having played over 200 games Spider entered elite company with just 16 players reaching the milestone in the Club's 144 year history.
He was part of the sides which took part in finals campaigns from 1977 to 1979, including a best on ground performance in the Panthers 1979 semi-final win over the Redlegs, and was a member of the 1978 and 1979 Escort Cups Premierships.
Winning the Barry Michelmore Memorial Trophy in 1974 and the Past Players and Officials Associations trophy in 1976, Spider was awarded his 5-year service certificate in 1975, followed by Life Membership in 1980.
Following the end of his football career, Spider remained heavily involved with the South Adelaide Past Players and Officials Associations, including serving as President, and regularly working on game days, behind the bar, at the Past Players and Officials hut on the hill.
"We are deeply saddened and shocked to learn of the passing of Gary," said South Adelaide CEO Neill Sharpe.
"Gary had an association with South Adelaide for over 50 years. He had a real passion for the Club and was still a regular part of its fabric through his involvement in the Past Players."
Former team mate and Captain Geoff Baynes remembers Gary fondly as a consummate teammate and a fantastic player and one of the most consistently dependable defenders in the league during the seventies.
"Gary had a very deceptive level of speed and he was underestimated by his opponents at their peril. He would regularly run down and complete fantastic tackles on highly rated forwards and I have lasting memories of him sprinting down from half back, motoring away from his opponents, with that great loping gait and delivering bull-eye accurate passes to our forwards.
"He was absolutely a wonderful team man both on and off the field and would support all his teammates one hundred percent and always loved a chance to have a drink and a natter about our playing days.
"Gary will be mightily missed by all that knew him and especially us who played with him during the great days of seventies SANFL football."
The South Adelaide Football Club would like to express its sincere condolences to his partner Anneke, children James and Dannielle, son in law Dan and granddaughter Stella and all Gary's family and friends during this difficult time.