Women's Match Report: Trial 1 South vs Eagles
24 January 2020
South Adelaide vs Eagles
Trial 1 - Flinders University Stadium - 24/01/20
| | | | | | |
| --- | --- | --- | --- | --- | --- |
| South Adelaide | 1.1 | 1.2 | 2.2 | 2.2 | 14 |
| Eagles | 1.1 | 2.1 | 4.3 | 5.4 | 34 |

Goals: Flanagan-Sjoberg, Rothwell
Best: N/A
South Adelaide showcased many new faces during their first trial game of the year against a much-improved Eagles outfit at Flinders University Stadium on Thursday night.
The Panthers, who named a squad of 35 for the game, used the opportunity to give as many players a run as possible.
And while the 2.2 (14) to 5.4 (34) result didn't go the way of the Panthers, there are many positives to take from their first hit out for the year.
For example, both of the Panthers goals were kicked by new recruits, with Aldinga's Sophia Flanagan-Sjoberg and Willunga's Kristen Rothwell both booting goals in the blue and white.
From the opening quarter, both Czenya Cavouras and Sam Pratt showed that they had not let their high standards slip over the off season.
Meanwhile, new additions in Layla Rogers (McLaren Vale) and Alana Baker (Flagstaff Hill) gave us a glimpse of what they are capable of in the upcoming season.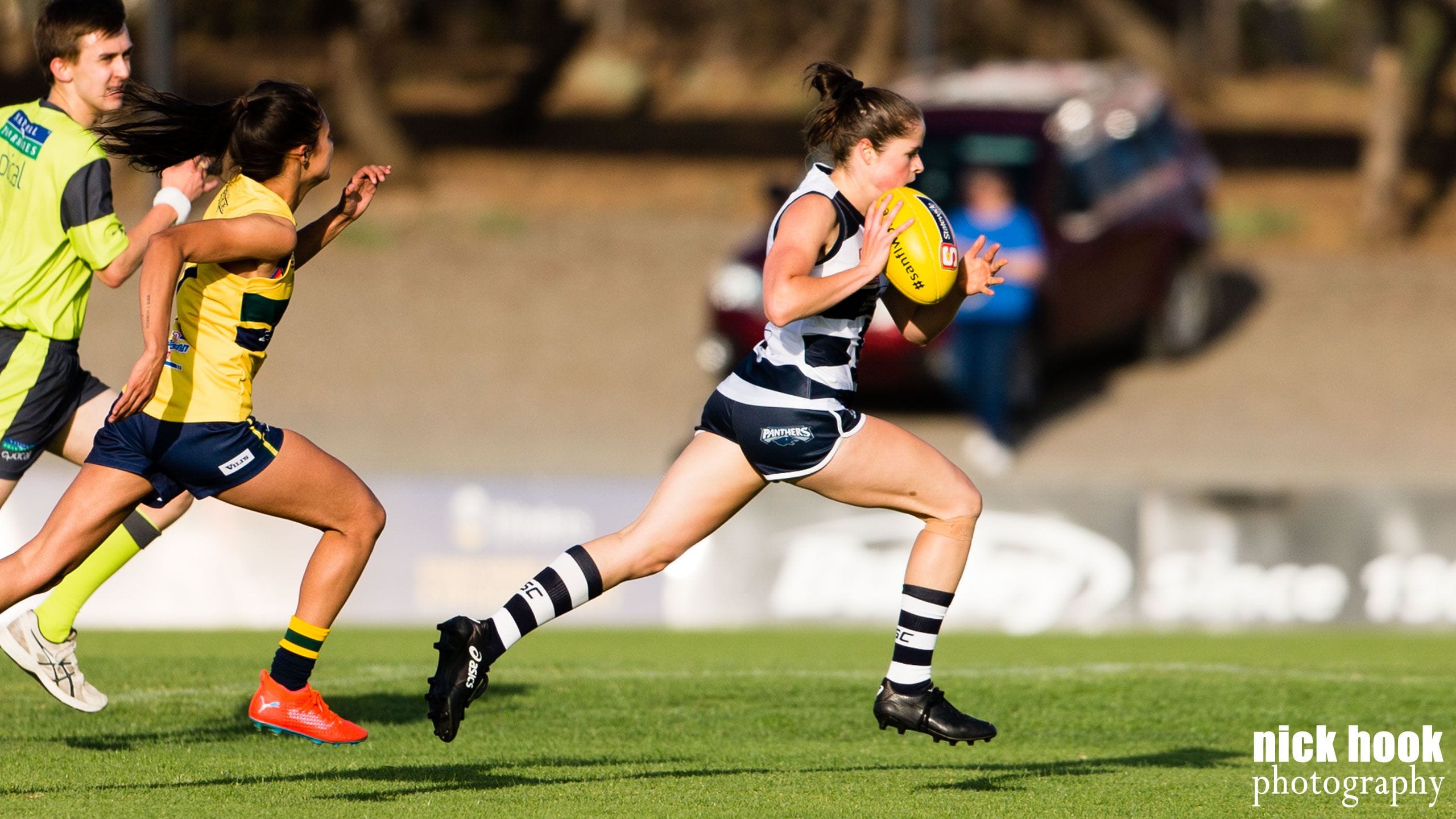 New recruit Tahlia Meyer puts the jets on. Image: Nick Hook Photography
But battling against the blistery conditions and a much-improved Eagles outfit from their winless season last year; the game broke down into a stalemate as both sides struggled to clear the ball from the stoppages.
However, as the game progressed, the Eagles began to put immense pressure on the Panthers backline with repeated forward entries.
Down back, Jaslynne Smith, Elke Jarvis and Natalie Gibbs were all able to show their composure; but the pressure caused by the repeated forwards entries from the Eagles proved to be too much.
With two goals coming from Kiana Lee, the Eagles began to take control.
At times South Adelaide's in-experience did show, as the anti-density rule cost the Panthers two goals during the game.
But the positives outweighed the negatives for South, with Katrice Turner (Willunga) playing well, while Tahlia Meyer (Norwood) showed that she will be a huge inclusion for the Panthers this year.
Likewise, the Panthers young players, spearheaded by Teah Charlton and Emogen Johnson, showed that they will be promising for the South Adelaide, not just this year but for years to come.
South Adelaide will now face Sturt in their second and final trial game at Flinders University Stadium on Thursday, February 30, at 7pm.