Bob Schmidt - 2002 - The "Greatest South Adelaide Team"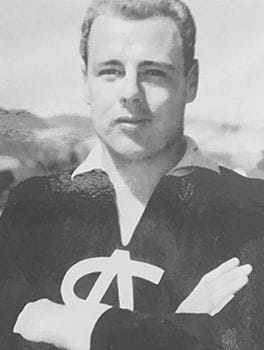 Described by Ray Barber in the 'News' after his first game for South Adelaide in 1962 as 'an outstanding player in the mould of a typical Victorian half back flanker,' Bob made that position his own over a 164 game, 10 year career with the Panthers.
As part of the bottom to top 1964 turnaround side, his coach Neil Kerley called him 'the best half back I have seen in the league's the most efficient player, with no weakness in his game.' Bob also enjoyed a four year, 11 game state career which included the 64-point win over Victoria in 1965 when he so thoroughly stitched up Ted Whitten that he was shifted into ruck to try to get him back into the game.
Bob won the Knuckey Cup in the same year, demonstrating a fearless, rugged approach that tended to intimidate opposing players. He is well remembered around the club for his enthusiasm, club spirit, and extreme fitness, typified by his reappearance on the training track two days after having a finger amputated.