Jack Dawes - 2002 - The "Greatest South Adelaide Team"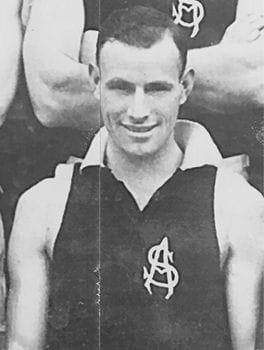 Another of the 1930's country recruits, Jack followed his brother Jim (whose own significant football career Jack's in many ways reflected) down from Jamestown to begin with South in 1935. In that same year he would play a telling role across the half forward line to help win the Grand Final.
It was either in the forward line or as a follower that Jack played his best footy for both South Adelaide (captaining them for four years from 1938-1941) or the state (in the 1937 carnival and in 1939 when he was state captain).
An accurate left foot kick who had good goal sense, Jack topped the club goalkicking in 1937 with 54 goals, and won the Knuckey Cup in the same year. He played in total 141 games and kicked 267 goals for South before he retired in 1944.
His team mates like Jack Boyle and the late Colin Haines paid testimony to his fitness and endurance, his popularity and inspiration as a captain, and the fact that he was greatly respected by his opposition alike both for his footballing ability and his temperament.