John "Jack" Kay - 2009 Inductee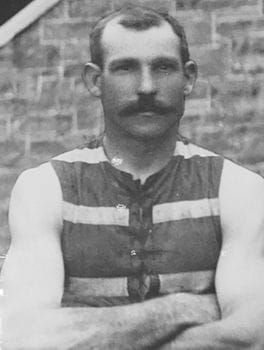 John "Jack" Kay was born on the 24th of August 1867, nine years before the establishment of the South Adelaide Football Club.
His debut game for the "blue & whites" was against Port Adelaide on the 4th of July 1891, and his last game was also against Port Adelaide on the 18th of August 1906.
The 1890's were a golden age for the club, and Jack played in the 1892, 1893, 1895, 1896 & 1898 premiership sides. In total, Jack would play 162 games over 13 seasons, kicking 173 goals and captaining the Club in 1903 and 1904.
A "crack" full-forward (or as referred to in those days a "goalsneak"), he topped the club goal-kicking list on five occasions. He was also the leading goal-kicker in the entire competition three times (1896, 1898 & 1902).
In 1893 he was named by The Observer Newspaper's Team of the Year on a half-forward flank and the following year he represented South Australia against Victoria in an Inter-Colonial match.
His dedication to the club can be best explained by the fact that when the 'electorate system' was introduced in 1899, Jack found himself residing in the North Adelaide Football Club zone. He subsequently moved and resided in the city and became eligible to transfer back to South Adelaide in 1901.
Two of Jack's sons subsequently also played for South Adelaide. Jack Leonard Raymond (55 games) & Harold Edwin (Three games).