BETTA Team: SANFLW Round 1 vs North Adelaide
Posted by Jonathon Parker on 25 February 2021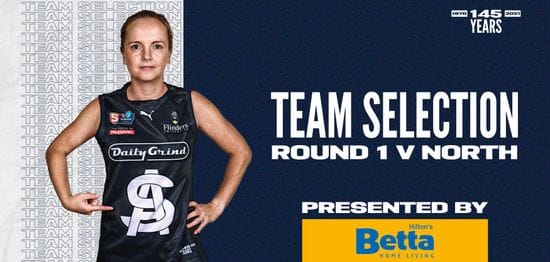 South Adelaide begins 2021 with a Grand Final rematch against the Roosters.
A lot has changed since the Panthers and Roosters last met in August.
The Panthers have a new coach and plenty of new faces including key recruits Soriah Moon (Glenelg/Flagstaff Hill) and Alannah Rochow (Norwood/Happy Valley).
Not to mention that another three Panthers in Teah Charlton, Indy Tahau and Tahlia Meyer were drafted to the AFLW, with Charlton being taken with Adelaide's first pick, making it three years in a row that the Crows number one pick came from South Adelaide.
On the other side of the fence, the Roosters have lost a number of key players from their premiership side, including Panther Prermiership player Anne Hatchard and fellow Crows teammate Ash Woodlands
Looking for redemption, the new look Panthers could welcome up to eight debutantes.
Jaimi Griffen (Aldinga) is set to make her South Adelaide debut, which is significant as Jaimie is the daughter of former player and life member John Griffen.
John played 9 games for the Panthers from 1970-1972, and Jaimie will be the second father-daughter player to play for South Adelaide, with the first being current coach Andrew Brockhurst and his daughter Emily.
A host of local talent has been selected in the extended squad, which will be cut to 22 prior to the first bounce on Friday, Ella Besley (Reynella), Brooke Boileau (Mt.Compass), Jorja Hooper (Happy Valley), Renee Moon (Goolwa/Pt.Elliot) and Brooke Kleinig (Flagstaff Hill).
The first game of the 2021 SANFL StateWide Super Women's League season kicks off tomorrow evening from 6pm at Coopers Stadium (Norwood).
The SANFL StateWide Super Women's League will once again be available to watch via the SANFL Digital Pass which can be accessed here.
South Adelaide Members receive a discount on the Digital Pass which can be purchased here.
What: Panthers vs Roosters
Where: Coopers Stadium (Norwood)
When: Friday, February 26, 6:00 PM
Tickets: Free Entry
Watch: Live via SANFL Digital Pass

In: A.Rochow (24) Happy Valley/Norwood, J.Griffen (31) Aldinga, S.Moon (32) Flagstaff Hill/Glenelg, E.Besley (33) Reynella, B.Boileau (37) Mt.Compass, J.Hooper (38) Happy Valley, R.Moon (40) Goolwa/Pt.Elliot, B.Kleinig (46) Flagstaff Hill
Out: -