BETTA Team Selection: Under-16 Round 4 vs Glenelg
Posted by Jonathon Parker on 25 March 2021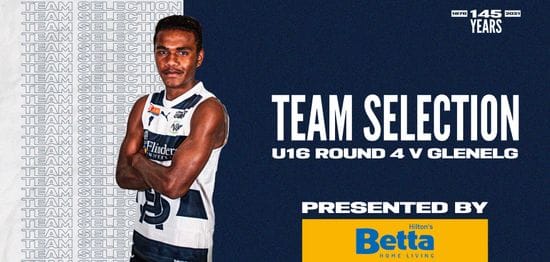 The South Adelaide Under-16s take on the Tigers on Saturday afternoon.
Coming off their first loss of the season, the South Adelaide Under-16s look to bounce back on Saturday afternoon against Glenelg.
All the action kicks off at Flinders University Stadium from 12:15pm.
The 2021 SANFL Digital Pass will once again stream the Under-16's matches, which can be purchased here.
South Adelaide Members receive a discount on the Digital Pass which can be purchased here.
What: Panthers vs Tigers
Where: Hisense Stadium
When: Saturday, March 27, 12:15 PM
Tickets: Free Entry
Watch: Live via SANFL Digital Pass
| | | | |
| --- | --- | --- | --- |
| 1 | Jayden | Heinze | Myponga/Sellicks FC |
| 4 | Benny | Barrett | Happy Valley FC |
| 8 | Blake | Rodrigues | Yankalilla FC |
| 10 | Sid | Draper | Willunga FC |
| 12 | Phoenix | Hargrave | Reynella FC |
| 13 | Sebastian | Hoeck | Willunga FC |
| 16 | Jack | Delean | Reynella FC |
| 17 | Ethan | Taylor | Christies Beach FC |
| 18 | Tyson | Woodcock | Willunga FC |
| 20 | Lachlan | Hamilton | Happy Valley FC |
| 22 | Ryan | Pearsons | Encounter Bay FC |
| 23 | Tom | Wheaton | Strathalbyn FC |
| 24 | Cooper | Bobridge | Brighton FC |
| 29 | Jack | Meaney | Goolwa Pt. Elliot FC |
| 30 | James | Baxter | Encounter Bay FC |
| 31 | Jace | Daris | Christies Beach FC |
| 32 | Riley | Mechan | Reynella FC |
| 33 | Myles | Amos | Willunga FC |
| 35 | Isaac | Churchill | Aldinga FC |
| 36 | Nicholas | Schroder | Willunga FC |
| 37 | Zak | Keir | Dudley United FC |
| 38 | Sebastian | Oliver | Happy Valley FC |
| 39 | Jake | Agnew | Reynella FC |
| 40 | Tom | Schirmer | Reynella FC |