Betta Teams: Round 16 - South Adelaide vs Woodville-West Torrens
Posted by South Adelaide Football Club on 10 August 2017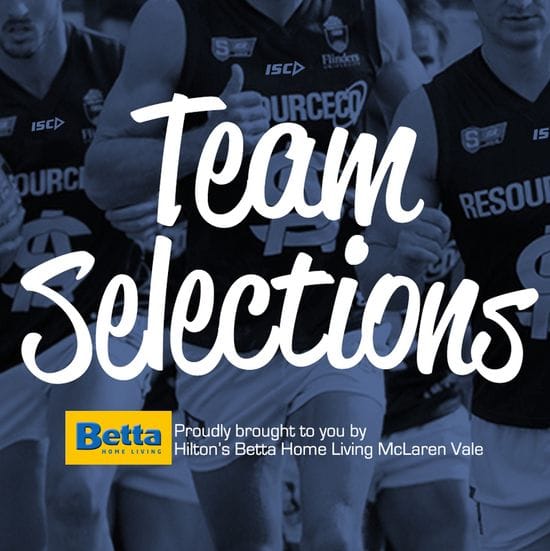 South's Sights on High-Flying Eagles
South Adelaide return to Hickinbotham Oval to host top-of-the-table Woodville-West Torrens for Round 16 action in the SANFL Macca's League.
This week's Betta Team Selections bring with them another great comeback story.
Not to be outdone by Peter Rolfe's return from a 775 day absence from League footy against West Adelaide, tall utility Bryce Damin will line up for his first senior SANFL game in 1583 days this weekend against the Eagles.
After making his League debut on April 12, 2013 in a Friday night clash against the Bloods, Damin has overcome two ACL surgeries and several other injury setbacks on his path to playing his second senior match.
Also returning to the League side is hard-running midfielder Richard Newell, who has been named on a wing, while Alex Moyle and potential debutant Jesse McKinnon (son of West Adelaide premiership wingman, Robin McKinnon) have been rewarded for their strong form in the Reserves and named on an extended interchange.
There have been two confirmed changes, with wingman Adam Hunter and livewire forward Rigby Barnes coming out of the side that faced Port Adelaide Magpies in Round 15.
Super Saturday Schnitzel Box!
The Reserves have added some potency to their forward line, with Peter Rolfe and Rigby Barnes set to return to the goal front.
However, they will miss the defensive presence of Jordan Taylor who will miss the clash with the Eagles after suffering a concussion against Port Adelaide.
Meanwhile, the Club's Under-18s will simultaneously be in action at Maughan Thiem Hyundai Oval in a top-of-the-table clash with the Eagles from 11:25am.
See the full teams below - brought to you by Hilton's Betta Home Living - McLaren Vale.
Match Details
What: Round 16 - South Adelaide vs Woodville-West Torrens
Where: Hickinbotham Oval
When: Saturday, August 12 - League 2:10pm, Reserves 11:30am, U18s 11:25am (Maughan Thiem Hyundai Oval)
Tickets: Adults $14, concession $8 and under 18s free of charge
Watch: Live streamed via South Adelaide Digital Pass

League
2:10pm - Saturday, August 12
Hickinbotham Oval
In: Damin, Newell, McKinnon, Moyle
Out: Hunter (injured), Barnes (omitted)
New: Jesse McKinnon - Victor Harbor (debut - if selected)
Reserves
11:30am - Saturday, August 12
Hickinbotham Oval
Allevi, Rolfe, Tyllis, Aurrichio, Barnes, Badger, Jolly, Kappler, Neville, Ah Chee, Fairlie, S. Taylor, Helyar, Bruce, Kreuger, Steele, Noble, Blackwell, Irra
In: Barnes, Allevi, Rolfe, Jolly, Blackwell
Out: Newell (League), Damin (League), McKinnon (League), J. Taylor (concussion), Whimpress (Under-18s), Need (work)
Emg: Albanese
Under-18s
11:25am - Saturday, August 12
Maughan Thiem Hyundai Oval
C. McGree, C. Gaspari, S. Lawrie, N. Robertson, L. Bogle, T. Illingworth, J. Daniels, S. Whitbread, J. Manuel, N. Beenham, A. Douglass, B. Snelling, F. Penn, J. Bradford, J. Colwell, H. Sampson, D. Whimpress, D. Arnold, L. Fitt, D. Tucker Cook, T. Davies, E. Wilkinson, B. Sowter, R. Williams, R. Milsom, T. Coleman

Author:
South Adelaide Football Club