Betta Teams: Senior Trial Games - South Adelaide vs North Adelaide
8 March 2018
South Adelaide Senior Trial Games
South Adelaide's League and Reserves will get their first taste of competition against outside opposition this Saturday at Hickinbotham Oval.
The Panthers will wheel out a mixture of youth and experience for their first hit out against North Adelaide.
Newly appointed co-captains Keegan Brooksby and Joel Cross will lead out the League side, which will also feature new recruits Anthony Biemans, Jake Summerton and Tom Whittlesea.
Also getting a crack at senior footy will be Panthers Talent Pathway products Robert Irra, Ben Millman, Liam Fitt, Cameron McGree and current Under-18 Hayden Sampson, as will 2017 recruit Mark Noble.
Experienced defender Tarak Redigolo will get his first run of the season through the Reserves, which also features Under-18s Tom Sparrow, Jonty Manuel and Job Colwell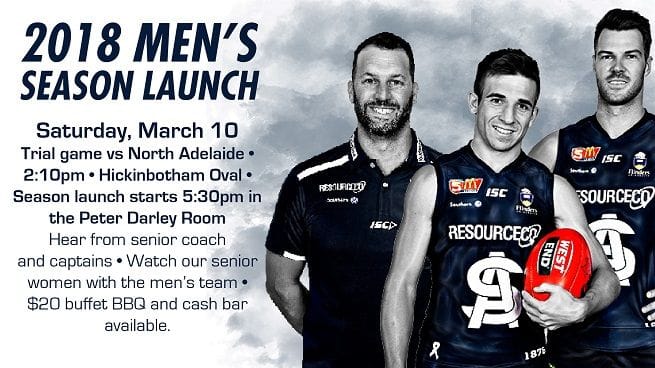 Match Day Details
What: Senior Trial Games - South Adelaide vs North Adelaide
Where: Hickinbotham Oval
When: Saturday, March 10 - League 2:10p; Reserves 11:30am
Entry: Free
League Squad
Brooksby, Szust, Fields, Haines, Biemans, Overall, Rose, Liddle, Davis, Haren, Noble, Irra, Fairlie, Millman, Cross, McKinnon, Heaslip, Summerton, Rankine, Moyle, McGree, Fitt, Brown, Whittelsea, Cailotto, Raitt, Sampson
Reserves Squad
Crabb, Redigolo, Kreuger, Hunter, Sparrow, Bruce, Telfer, Manuel, Gurney, Helyar, Badger, Beenham, Tyllis, Elmes, Carter, Hoey, Steele, Case, Evreniadis, Baker, Illingworth, Borrillo, Neville, Snelling, Sowter, Mountford, Colwell