BETTA Teams Selection: Round 19 v West Adelaide
Posted by Jonathon Parker on 2 September 2021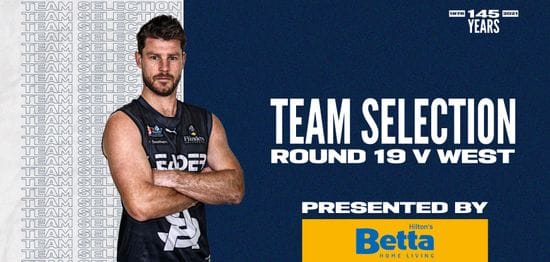 Panthers could make up to 7 changes for their crucial clash against West Adelaide.
Having sat on the disappointing loss to the Magpies for 12 days, the Panthers have a host of additions to the extended squad.
Speedy Mitch O'Neill returns to the squad having recovered from a hamstring strain, while tall timber Bailey Griffiths has also recovered from his concussion against North.
Nic Schwarz comes into the squad along with Ben Haren, Jaidan Kappler, Jesse McKinnon, Matt Roberts and high flying Jake Tarca.
Daniel Nobes is also in the mix for a League call up after kicking seven in the Reserves round 18 loss against Centrals.
The scenario is simple for the Panthers, a win will lock in a return to finals, while a loss would mean South will be at the mercy of the result between North Adelaide and Sturt, needing Sturt to lose.
Should the Panthers return to finals, it would be the first time since 1991/1992 that South Adelaide have made it to the major round in consecutive seasons.
On Monday night, Dual Magarey Medallist Joel Cross informed the club that he will hang up his Puma Kings at the end of the season.
Saturday's game will be Cross' last at Flinders University Stadium.
For the Reserves, they head into their last game of 2021 and will be boosted by the addition of Reserves captain Aaron Douglass.
Tyson Brown will also line up in the Reserves having overcome his latest injury set back.

All the action kicks off from 11:30am with the Reserves, followed by League at 2:10pm.
As per SA Health requirements, people attending must check in via the COVIDsafe QR Code.
All patrons must wear a face mask (covering their nose and mouth) while moving around the venue.
This includes during entering/exiting the venue, while visiting the bathroom and visiting food/beverage sales points.
Patrons may remove their mask while either in their seat or standing position while watching the game.
Masks are mandatory while inside the licenced venue (unless patrons are eating or drinking).
Grandstand seating is also at 50% capacity, and social distancing of 1.5m must be adhered to at all times.
What: Panthers vs Bloods
Where: Flinders University Stadium
When: Saturday, September 4, League 2:10pm | Reserves 11:30am
Tickets: Adult $16, Concession $10, Children under 18 FREE.
Listen: SAFC Radio presented by Loftus | 88.3 FM at the ground.
Watch: Live and on demand on SANFL Digital Pass
In: Schwarz, O'Neill, Griffiths, Haren, Kappler, McKinnon, Nobes, Tarca, Roberts.
Out: Loneragan (omitted), Freitag (omitted), Milsom (omitted), Bogle (omitted), Elsworthy (omitted), Draper (Under-18s)
Milestone: Joel Cross last game at Flinders University Stadium