Flinders University and South Adelaide to kick more goals than ever in new deal
Posted by South Adelaide Football Club on 30 March 2017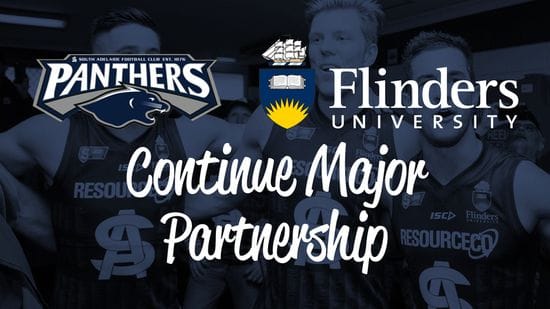 Flinders University students will benefit from a string of opportunities linked to the renewal of the partnership with South Adelaide Football Club for a further two years.
Entering its eighth year the partnership continues to provide real-world work experience opportunities for students studying business,marketing, finance, physiotherapy, nutrition and dietetics, education, and tourism and event degrees.
Benefits for South Adelaide include access to the latest thinking and methodologies in a range of areas, including physical education and nutrition, through research student placements.
Flinders and South Adelaide's mutual dedication to excellence and innovation have helped strengthen their community-based activities within the southern Adelaide region and offered significant benefits for each party.
These include South Adelaide's Panther Club Football Academy receiving a taste of AFL Draft Camp conditions during Flinders Sport, Health and Physical Education (SHAPE) Research Centre's yearly AFL Draft Camp two-day training program.
Each year the camp provides access to elite fitness testing, skill analysis technology, coaching and education normally only available to elite footballers.
Underpinned by a multidisciplinary approach, the program introduces young footballers to an elite football lifestyle, while also encouraging them to think about life beyond football.
Additional activities include South Adelaide CEO Neill Sharpe speaking about leadership as a guest presenter at an industry event at Flinders University held for Business degree students last year titled "Make your Next Career Move".
Panthers superstar player Tom Fields, who is currently studying a Bachelor of Sport, Health and Physical Activity (B.SHAPA), said the partnership had wide-ranging positive impacts.
"It's been great studying at Flinders knowing that we have this great partnership that works together to help the community," he said.
Bachelor of Business (Marketing) graduate Jonathon Parker, meanwhile, has just scored the role of Marketing and Administration Officer with the Panthers.
His all-round skill-set, qualifications and proficiency will be a valuable asset as he oversees South Adelaide administration duties and assists with marketing, memberships, merchandise, match day promotions, as well as events and sponsorship.
South Adelaide CEO Neill Sharpe said continuing the partnership with Flinders University was significant outcome for the Club.
"Flinders University have truly been an outstanding partner since the relationship first formed in 2010. Through this connection they have provided a number of our players with a great education opportunity and in turn we've been able to provide students with the chance to gain invaluable experience in an elite sporting program."
"Developing meaningful relationships such as our partnership with South Adelaide Football Club is all about making a difference in our communities," says Flinders Office of Communication and Engagment, Executive Director Callista Thillou.
Author:
South Adelaide Football Club