Irra Brothers Showdown
Posted by Loukas Founten on 30 May 2018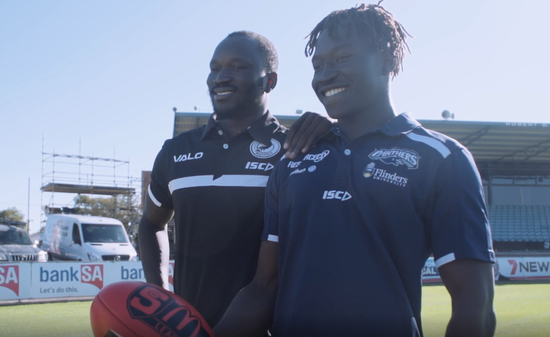 Playing against your old side always carries extra significance but try playing against your old side which features your little brother.
That's the scenario for Port Adelaide defender Emmanuel Irra ahead of Sunday's SANFL match-up between the Magpies and South Adelaide.
Irra, 24, was selected as a Category B Rookie by the Power in 2016, becoming the club's first Ugandan player.
The Magpies started the season promisingly with two wins and a draw but after four consecutive losses the former Panther knows the importance of this week's meeting at Noarlunga.
"Where we're sitting we're trying to revive our season," Irra said.
"But for me, the occasion of trying to beat my old side will be important as well."
He could also come up against his younger brother Robert for the first time in an official game.
"We definitely had a kick in the backyard improving our tackling on each other," Irra said of his brother.
"I'm a fair bit older than him so I would beat him all the time.
"We've never had the opportunity to play against each other in an official game, mainly because of the age gap.
"When I started playing he was always in primary school and growing up the age gap didn't allow us to play together or against each other separately."
Robert Irra has shown his talent coming through the ranks at Noarlunga and has been selected for the South Australian Under 18 state team.Emmanuel described him as a smart small defender.
"Robert has just turned 18, he's a small defender who has played down back all his life so he hasn't had to learn the craft like me," Emmanuel said.
"He's strong probably a bit stronger than I was at 18 and he's got some nice skills as well.
"He's pretty smart too."

The boys come from a big family but the older Irra brother jokingly claimed he was the favourite.
He said it was unlikely he would get a chance to line up on Robert because they play at opposite ends of the ground, but he didn't rule it out.
"I kicked a goal playing down back against South Adelaide last year when I snuck forward and it's the only goal I have ever kicked for the Magpies so I'll definitely try and do that again," he said.
"I think the whole family will support both of us and just hope we have a good game, as long as one team wins and there's no draw."
Robert Irra said his older brother was a trailblazer for him and his reason for falling in love with football.
He said he always looked up to Emmanuel and would be thrilled to get to play against him on Sunday.
"Ever since he's been a kid he has always put in hard work and he has always wanted to do something with footy so I admire what he's done and what he's going to do," Robert said.
"Coming here as a young kid, I got into the game because he played.
"He'd run around the back yard having a kick and I decided I would have a go and I enjoyed it.
"I remember as a kid he'd run laps, probably do 20 and I would try to keep up but he would just smash me.
"I've never been able to play against my brother and he plays backline and I play backline so it'll be interesting seeing how we go."
Written by Loukas Founten