Joel Cross steps down from the Captaincy
Posted by South Adelaide Football Club on 18 March 2021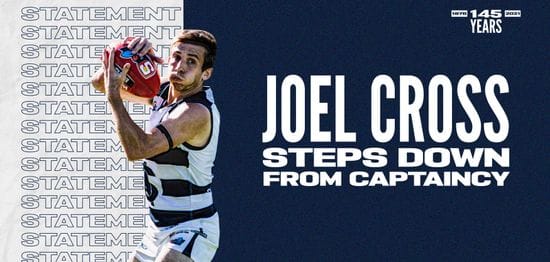 South Adelaide Football Club champion Joel Cross will step down from the Captaincy.
Joel decided to step away from official leadership duties to focus on football and give others an opportunity to lead.
"While I have greatly enjoyed being involved in the Leadership Group I feel the Club is in a fantastic position to challenge for a premiership and this can be largely attributed to the strong culture developed by our leadership group, coaches, players and administrators," said Joel.

"I now feel there are new, young, emerging leaders who deserve the opportunity to be exposed to the enjoyment and challenges of leadership. The strength of our group is our connectedness and genuine love of each individual, I will continue to lead, the same way each player leads regardless of title, seniority or role in the team."

"Being captain has been a great challenge, but ultimately it was a service I wanted to perform for our Club."
Joel started as joint captain in 2018 with Keegan Brooksby and shared the role with Matt Rose in 2019 and 2020, where Rose only played Round 1 due to a shoulder injury.
Senior Coach Jarrad Wright paid tribute to Joel for his longstanding selflessness.
"Joel has been a fantastic Clubman and leader for a long time now. He has a long list of personal accolades, but his driver is wanting team success."

"Because of that he will continue to be a leader without any title attached, which, for those that were at the trial against West Adelaide, would have noted with his 4 goal and 5 tackle performance."
The Club will make an announcement on its Leadership Group for 2021 early next week.

Author:
South Adelaide Football Club