Junior Match Report: U16s season finished after Finals loss to Glenelg
Posted by Clay Sampson on 29 April 2019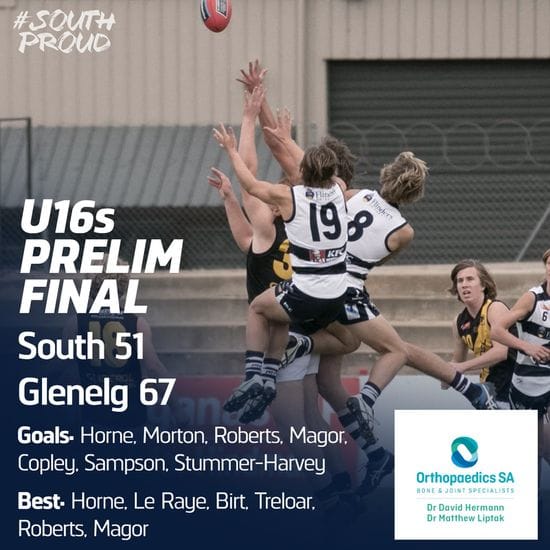 Under-16s Match Report
South Adelaide vs Glenelg
Preliminary Final - City Mazda Stadium - 28/04/19
| | | | | | |
| --- | --- | --- | --- | --- | --- |
| South Adelaide | 1.1 | 2.3 | 5.5 | 7.9 | 51 |
| Glenelg | 1.1 | 5.2 | 8.5 | 10.7 | 67 |

Goals: Horne, Morton, Roberts, Magor, Copley, Sampson, Stummer-Harvey
Best: Horne, Le Raye, Birt, Treloar, Roberts, Magor
South Adelaide's Under-16s has come to an end after a 16-point loss to Glenelg in their Preliminary Final clash at City Mazda Stadium on Sunday afternoon.
In the wash up from the minor rounds, we finished second on the ladder after having a very good season with only two losses out of our seven games, one of which came after the siren.
The players were as well prepared for the knockout final as they could have been. It was simple, a win and we play off in the Grand Final. A loss would mean the season comes to a close.
So on a perfect day for football we travelled to West Adelaide to play Glenelg who had finished third on the ladder.
After a very scrappy start, and Glenelg dominating the quarter in regards to possession, we managed to come in at the first change with the scores locked away at seven a piece.
We felt if we cleaned things up a little and moved the ball a little quicker we could start to control the game.
To Glenelg's credit, they did not allow us to do this and gained control themselves. We headed into the main break with the Bays holding a 17-point lead.
With nothing to lose in the second half, we came out of the blocks and kicked the first two goals in five minutes to close the gap within a kick.
Another couple of opportunities missed and Glenelg went down the other end and converted goals themselves to again lead at the last change by three goals.
Heading into the last quarter it was going to be all out attack.
We managed to kick the first goal within two minutes and then had the next two shots on goal, but could not convert the chances.
At this stage we again had all the momentum. However, once again we were unable to convert our opportunities and Glenelg went down and scored against the flow of play.
Our season came to an end losing by 16-points after having one less inside 50 and one less scoring shot.
As a coach I could not have been prouder of the way the players conducted themselves and never lied down fighting all the way to the final siren.
I would like to thank the entire U16 squad for their commitment and dedication and wish you all the best with your football journeys.
I will be watching with interest.
Clay Sampson
U16 Head Coach