Junior Match Report: U18s fall just short to North Adelaide
Posted by South Adelaide Football Club on 20 May 2019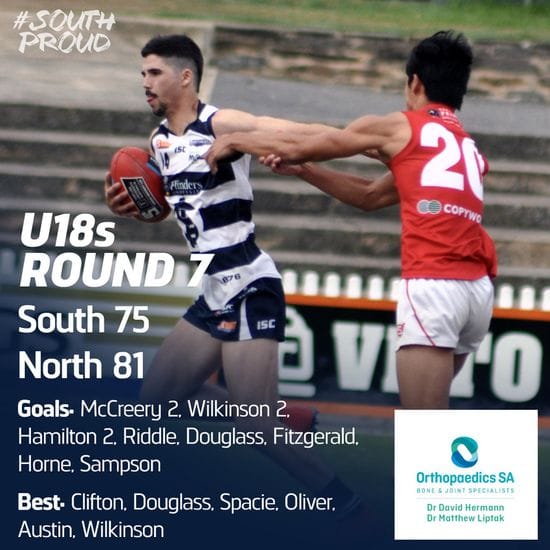 South Adelaide @ North Adelaide
Round 7 - Prospect Oval - 18/05/19
| | | | | | |
| --- | --- | --- | --- | --- | --- |
| South Adelaide | 5.3 | 6.4 | 8.5 | 11.9 | 75 |
| North Adelaide | 3.2 | 4.6 | 10.8 | 12.9 | 81 |

Goals: McCreery 2, Wilkinson 2, Hamilton 2, Riddle, Douglass, Fitzgerald, Horne, Sampson
Best: Clifton, Douglass, Spacie, Oliver, Austin, Wilkinson
South Adelaide's Under-18s fell to the Roosters by 6 points at Prospect Oval on Saturday afternoon.
On Saturday morning we played the last of our seven away games at Prospect oval before our Reserves and League teams.
This week we were forced to make five changes including first gamer James Hay and the excitement machine Eamon Wilkinson after 12 months off recovering from a ruptured ACL.
The first quarter was our best start for the season kicking 5 goals into the wind through Beau McCreery, Mitch Riddle, Jason Horne, Liam Hamilton, and Connor Sampson.
North kicked 3 goals and we went into the first break 13 points up.
We were pleased to see the lads play to the game plan, putting plenty of pressure on North's back 6, our mids were on top working hard both ways and our backs stood tall.
The 2nd quarter was tightly fought out with only one goal to each team, ours came in the 19-minute mark through a great grab 20m out by Beau McCreery.
There were some frustrating passages of play which saw us overuse the handball without gaining any Territory, but still managed to be in front by 10 points at half time.
In the 3rd quarter, North dominated most of the quarter kicking six goals to our two. Liam Hamilton kicked his second and after 12 months off Eamon Wilkinson finally kicked one of his exciting trademark run and carry goals.
Going into the last quarter 15 points down, we made some positional changes and urged the lads to up their intensity, be first to the ball and take the game on.
To their credit, they responded and we played out another thriller scoring goals through Wilkinson, Jack Fitzgerald and our Captain Aaron Douglass, but to fall short by 6 points.
Max Clifton was clearly our best, playing another tough game out as well as Tyler Oliver through the midfield. Lachie Williams battled hard all day in the Ruck and Eamon Wilkinson through managed game time was producing plenty of excitement when he got hold of the footy.
Beau McCreery contested well up forward and our Backs, Harry Spacie, Boyd Austin and Aaron Douglass held up well.
Next week we play our first home game for points against the Eagles who are undefeated and sitting on top of the table.
Round 8
South Adelaide vs Woodville-West Torrens
Flinders University Stadium - Saturday 1st of June at 11:00 am
Boyd Austin
Assistant Coach
Author:
South Adelaide Football Club