Juniors Report: Preliminary Final - South Adelaide vs Sturt
Posted by South Adelaide Football Club on 12 September 2017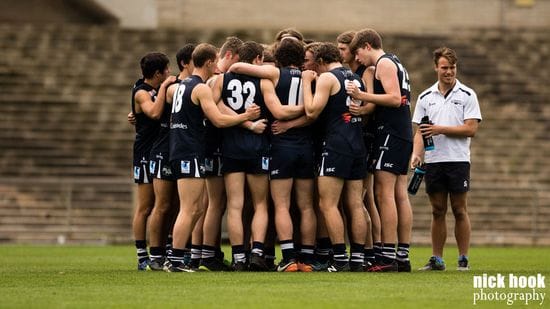 Under 18s Report
South Adelaide vs Sturt
Preliminary Final - Football Park - 08/09/17
| | | | | | |
| --- | --- | --- | --- | --- | --- |
| South Adelaide | 0.2 | 0.8 | 4.10 | 6.13 | 49 |
| Sturt | 4.5 | 5.8 | 8.9 | 10.12 | 72 |
Goals: Fitt 2, Steele, Bogle, Colwell, Sampson
Best: Sampson, Bogle, Irra, Coleman, Beenham, Fitt
South Adelaide's Under-18s brilliant season fell short of a Grand Final berth after recording a 23-point loss to Sturt at Football Park on Friday night.
Our Under-18s year finished a week before we would have liked on Friday night, with a loss to Sturt in the Preliminary Final at Footy Park.
A slow start to the game proved to be the difference in the end, with Sturt getting on top early and finishing their work with goals.
Our inability to covert forward entries to goals hurt us significantly.
We simply didn't play to the level we are capable of in the first half.
After halftime we were able to get our game going in a more effective manner and found our way back into the contest on the scoreboard.
The final quarter was back to a break even for both teams and in the end we couldn't get close enough to put significant pressure on the Sturt players.
Our players were very brave in the way they fought hard to get back in the game and did our club proud with their spirit and commitment.
While the season finished earlier than we were planning we can't underestimate the wonderful season our Under-18 players delivered overall.
There will be plenty of pressure on our senior players coming from this group of young men in the coming years.
Thanks very much to our wonderful coaching and support staff for all their commitment and work over the past 10 months.
A very sincere thank you also goes to our players parents, family and friends for the support they have given to our players this season.
Tony Bamford
Under 18s Coach

Author:
South Adelaide Football Club