League Match Report: South win the scrap against the Bloods
Posted by Jayden Bartlett on 1 July 2019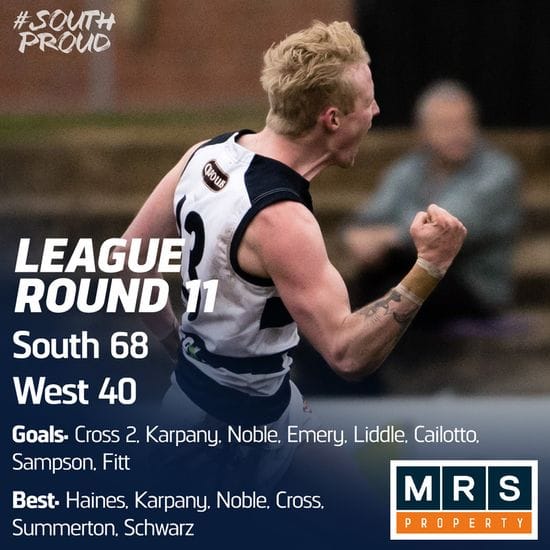 South Adelaide @ West Adelaide
Round 11 - City Mazda Stadium - 30/06/19
| | | | | | |
| --- | --- | --- | --- | --- | --- |
| South Adelaide | 0.5 | 3.10 | 8.13 | 9.14 | 68 |
| West Adelaide | 2.2 | 2.4 | 5.4 | 5.10 | 40 |

Goals: Cross 2, Karpany, Noble, Emery, Liddle, Cailotto, Sampson, Fitt
Best: Haines, Karpany, Noble, Cross, Summerton, Schwarz
Injuries: Nil
Crowd: 1346
South Adelaide now sit third on the ladder following a hard fought 28-point win against West Adelaide at City Mazda Stadium on a cold Sunday afternoon.
The Panthers overcame a shaky start that saw them score just five behinds in the opening quarter, to win 9.14 (68) to 5.10 (40).
Despite trailing by nine points at quarter time; South regrouped and took control of game, holding West Adelaide to just three goals for the next three quarters.
The Panthers also spread the goals around, finishing with eight individual goal kickers for the match.
Joseph Haines was impressive for the away side, finishing the match with 33 disposals, 12 marks and nine rebound 50s.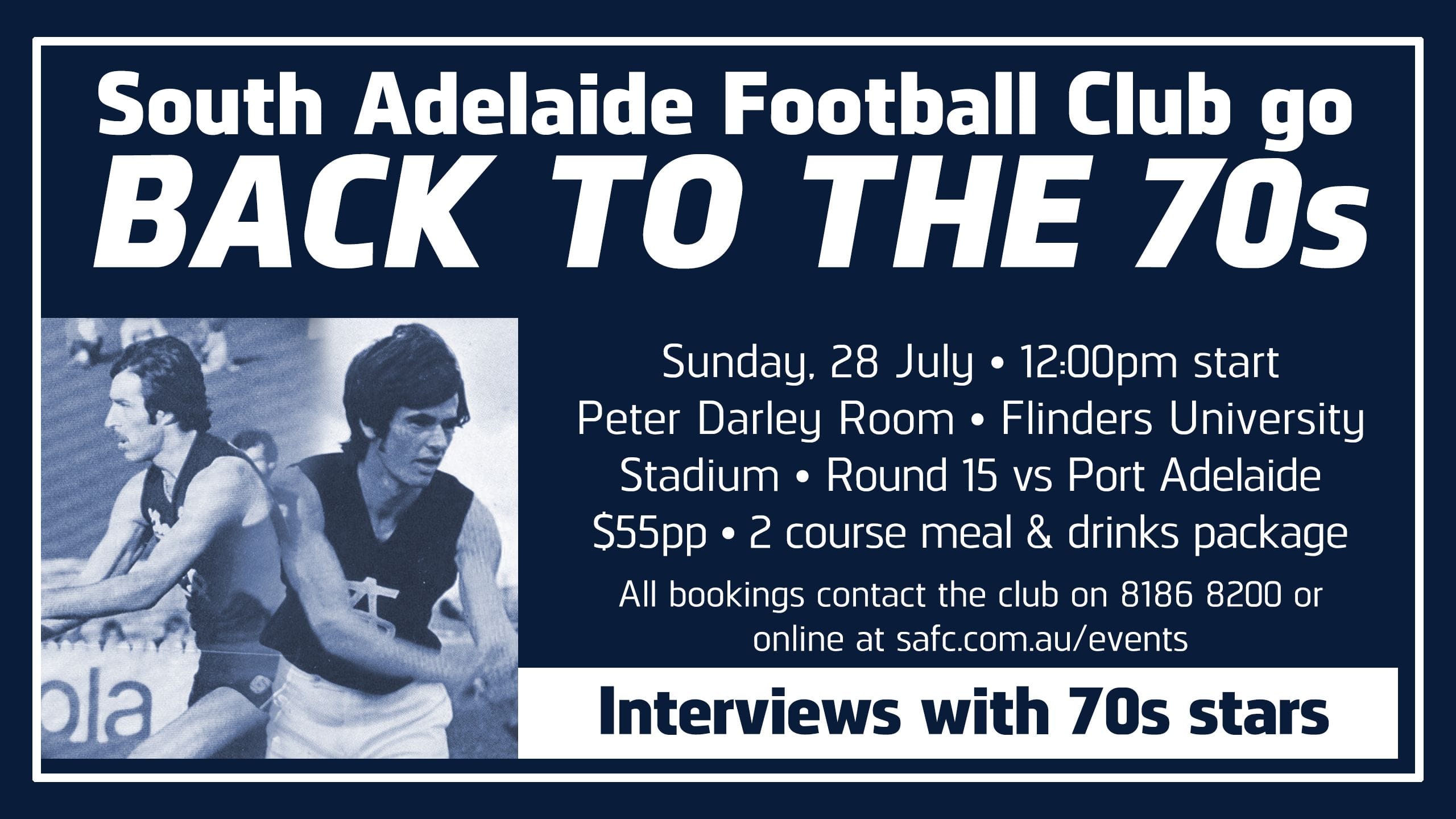 The game began with back to back goals for West Adelaide and it would have been more if it wasn't for the Panthers strong backline that held firm despite the repeated inside 50s.
Brad Crabb (nine disposals, five marks and four tackles) and Tyson Brown (15 disposals, five marks and three rebound 50s) helped minimize the damage caused by the Bloods forwards.
It wasn't until the ninth minute mark of the second quarter that the Panthers finally scored a goal through Kyle Emery (10 disposals and six marks).
Eight minutes later a huge kick by Liam Fitt (six disposals and five tackles) put the Panthers in-front, before a goal by Joel Cross (22 disposals, six clearances and four rebound 50s) gave the Panthers a 3.10 (28) to 2.4 (16) lead at the main break.
South Adelaide dominated the aerial contest, collecting 14 contested marks to West Adelaide's four.
However, both sides were inaccurate in the cold conditions; with South finishing with a 39% scoring accuracy and West Adelaide with a 33% scoring accuracy.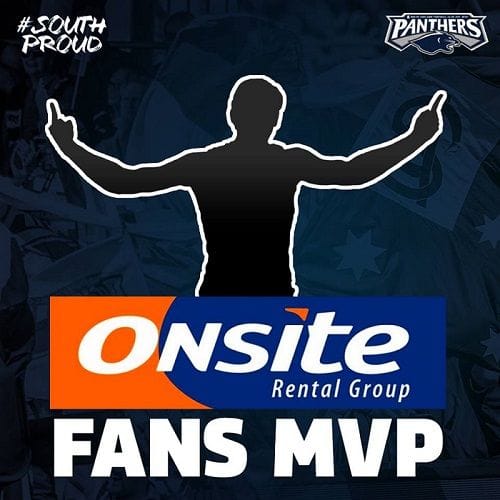 Coming out after halftime, Cross followed up to kick his second of the match and what followed was a shoot out between the two sides.
Beech responded for the home side at the eighth minute mark of the third term.
However, just two minutes later, Alex Cailotto (four tackles and 12 hit outs) marked his return to the side with a goal.
South were not able to kick back to back goals however, as Haysman struck back for West just two minutes later.
Hayden Sampson (13 disposals and six tackles) would reply for the Panthers at the fifteenth minute mark of the quarter.
West Adelaide would strike back again just two minutes later with a goal by Turner.
On return to the league side, Emmanuel Irra was busy supplying the Panthers with plenty of outside run, finishing with 14 disposals and four tackles.
Meanwhile, Nic Schwarz was getting plenty of the ball for the away side, collecting 23 disposals and four tackles while also creating plenty of chances with seven clearances and six inside 50s.
The Panthers finally managed back to back goals to finish the quarter; with a goal by Malcolm Karpany (22 disposals, seven marks and six tackles) and a goal by Mark Noble (24 disposals, six marks and six tackles) giving South Adelaide a 8.13 (61) to 5.4 (34) lead at the final break.
Anthony Biemans provided plenty of forward pressure for South, finishing with seven marks and five tackles.
West Adelaide failed to capitalise in front of goal in the final term, finishing with just six behinds; with the only goal of the final term coming from Nick Liddle (21 disposals, eight marks and two inside 50s).
It was a strong win away from home for the Panthers; with South gaining the much needed two points as the race for a top five spot begins to heat up, as five teams now battle out for three spots.
The third placed Panthers now face Sturt in an important clash at Flinders University Stadium on Sunday, July 7 from 2:10 pm.