MRS Property League Match Report Round 11: South @ Sturt
Posted by Jayden Bartlett on 7 September 2020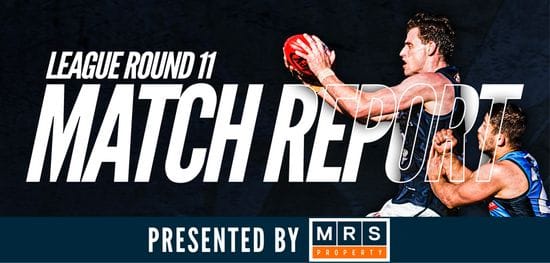 South Adelaide @ Sturt
Round 11 - Peter Motley Oval - 5/09/20
| | | | | | |
| --- | --- | --- | --- | --- | --- |
| South Adelaide | 3.2 | 4.4 | 6.4 | 7.5 | 47 |
| Sturt | 3.2 | 5.6 | 7.11 | 11.14 | 80 |
Goals: Cross 2, Horne, Schwarz, Broadbent, Sampson, Overall
Best: Hunter, Broadbent
Injuries: Schwarz (Leg), Fitt (Knee)
Full Injury List
A dismal second half display sees South Adelaide fall to a 33-point loss against Sturt at Peter Motley Oval on Saturday.
The Panthers managed to match it with the home side for the first two terms but the Double Blues turned up the heat with six final half goals which proved too match for the Panthers to handle as the fell to a 7.5 (47) to 11.14 (80) defeat, their biggest losing margin this year.
Joe Haines was a standout in the blue and white, finishing the match with 26 disposals and 12 rebound 50s while Jesse McKinnon backed up his impressive performance from the previous round with 20 touches, as did Ben Heaslip who finished with 22 disposals.
A win for the Panthers would have brought the side closer to a finals' double-chance, whereas the Double Blues had to win in order to keep their top four dreams alive.
With plenty to play for it was Nic Schwarz (seven tackles) who opened the scoring, kicking the first goal of the day after just a minute of play.
But this lead would be short-lived as the home side would kick two unanswered goals within the next five minutes.
Matthew Broadbent (18 disposals) would kick truly midway through the opening term to cut the deficit to just a single point, while Jason Horne (ten disposals) would follow up minutes later with his first of the match.
The two sides would continue to trade blows but would ultimately have to start from scratch again as they headed into the first break with the scores locked at 3.2 (20) apiece.

The opening minutes of the second quarter would see South Adelaide take the lead, courtesy of Sam Overall's first goal of the day.
But this would prove to be the Panthers last major until the ever-reliable Joel Cross (21 disposals) stepped up at the fifteenth minute mark of the third term, at which point the Panthers trailed by 18 points.
Cross would follow up just a minute later to cut the deficit to just a goal but the Double Blues would manage to strike back with a goal after the siren, severely hurting the Panthers' momentum in the process.
Playing on the small surface of Peter Motley Oval, the Panthers really struggled to combat the immense Sturt pressure around the stoppages and this flooding hampered the Panthers chances at replicating their signature run and carries along the wings.
With only the home sides inaccuracy leaving the door open for a possible comeback Hayden Sampson (13 touches) gave the Panthers a much-needed final term goal.
But this would prove to be the final of the match as the Double Blues stormed home by kicking the last three goals of the day.
The Panthers still sit in the top four and will now look to bounce back against West Adelaide under lights at Hisense Stadium on Friday September 11, from 7:20pm.