MRS Property Reserves Match Report Round 16: vs Central District
Posted by Jayden Bartlett on 9 August 2021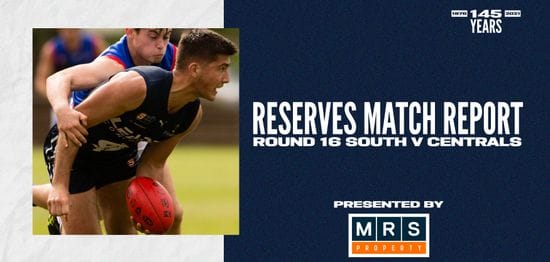 South Adelaide vs Central District
Round 16 - X Convenience Oval - 07/07/21
| | | | | | |
| --- | --- | --- | --- | --- | --- |
| South Adelaide | 3.2 | 5.2 | 6.3 | 11.4 | 70 |
| Central District | 0.1 | 1.3 | 3.4 | 4.5 | 29 |
Goals: Freitag 4, Gaden 3, Sladojevic 2, McCreery, C.Sampson
Best: Freitag, Lovering, Gaden, Sawford, Hindes, Sladojevic
The Underdogs defeat the Bulldogs: The South Adelaide Reserves stun Central District with a 41-point upset at X Convenience Oval on Saturday.
Although they were facing the Bulldogs, it was the underdogs who came away with the points after the Panthers pounced with an 11.4 (70) to 4.5 (29) win.
There were many standouts for the Panthers. Fraser Turner led the way with a game-high tally of 30 touches and a team-high 10 marks, while Damon Freitag and Sam Gaden combined for 7 goals.
After suffering a tough defeat just two weeks prior and heading into the first match post-lockdown, the bottom-placed Panthers had to contend with the third-placed Bulldogs.
But right from the opening term, it looked as if the Panthers were determined to make a statement as Freitag and Daniel Sladojevic combined with 2 goals within 4 minutes to hand South an early buffer.
Then during the dying minutes,Jake McCreery stepped up with a late goal to hand the Panthers a 3.2 (20) to 0.1 (1) lead at the first change.
The second term mirrored the first, but this time Freitag combined with Gaden for 2 goals within 8 minutes to make sure the Panthers kept the lead at the main break.
While they were strong up forward, the Panthers defence was also impressive, with Jack Elsworthy and Lachlan Williams helping keep the Dogs at bay.
The Bulldogs threatened to come back during the third term, and they nearly did but the blue and white were able to steady through a Connor Sampson goal.
Sampson's goal meant the scoreline at the final break read 6.3 (39) to 3.4 (22) but this was certainly not the safest of margins—however, the Panthers made sure to put the game to bed.
Freitag got things going with his third major of the match during the opening minutes of the final term. Then, with 10 minutes played, Gaden waltzed in to score to bump the Panthers lead up to 5 goals.
From scoring to setting them up, minutes later Gaden then set it up to Sladojevic who was able to pluck it from the air, go back, and drill the match sealing goal.
Freitag then finished off his match in style with a strong contested mark against three opponents, before going back and kicking truly after the siren to signal the 11.4 (70) to 4.5 (29) win.
This win sees the Panthers lift themselves off the bottom of the table, and they now sit three matches out of finals with three games to play.
The South Adelaide Reserves will look to replicate this form when they face off against North Adelaide at Flinders University Stadium on Saturday, 14 August, from 11:30am.