MRS Property Reserves Match Report Round 18: vs Central District
Posted by Jayden Bartlett on 23 August 2021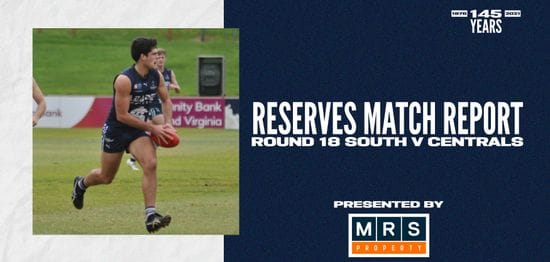 South Adelaide vs Central District
Round 18 - X Convenience Oval - 21/08/21
| | | | | | |
| --- | --- | --- | --- | --- | --- |
| South Adelaide | 2.2 | 5.5 | 7.9 | 11.11 | 77 |
| Central District | 4.4 | 7.6 | 9.8 | 12.9 | 81 |
Goals: Nobes 7, McCreery, McGree, McKinnon, Tarca
Best: Nobes, McKinnon, McGree, Haren, Lovering, Kraemer
Just three minutes shy of victory: the South Adelaide Reserves suffer a 4-point defeat at the hands of Central District at X Convenience Oval on Saturday.
Making the longest trip in the SANFL, Noarlunga to Elizabeth, for the second time in three weeks, the Panthers found themselves facing a different result as they fell to a narrow defeat, 11.11 (77) to 12.9 (81).
Some of the standouts for the Panthers were Daniel Nobes, who welcomed his return from injury by kicking 7 goals, while Jesse McKinnon collected 30 touches, 8 clearances and 6 tackles.
Having caused an upset-win during the last time the Panthers travelled to Centrals, the side made the trip to the kennel in good faith—and it showed with their fast start.
Nobes and McKinnon registered the first goals of the match, but 4 goals within the final 8 minutes of the opening term saw the Panthers enter the first break facing a 14-point deficit.
Just 17 seconds into the third term, Nobes struck with his second major, but once again the Bulldogs went on a mini-goalkicking rampage.
Jake Tarca managed to ease the side with a much-needed goal midway through the quarter, before a late Nobes goal set the halftime scoreline to 5.5 (35) to 7.6 (48), in the home sides favour.
During the third term, Cam McGree added a goal to go along with his 18 touches and 29 hit outs, but still, 11 points separated the two sides at the final break.
Centrals struck within the opening minute to bump the deficit up to 17 before back-to-back goals from Nobes brought the lead to within a straight kick.
With the pressure on, the Doggies once again found the answer with a goal, which brought the deficit back to 11 points.
However, Nobes came through once again with his seventh major of the match. Then Jake McCreery followed suit minutes later to snatch the lead for the Panthers.
After a tense span with no scores from either side, Centrals broke through with a goal with just 3 minutes left till the final siren. This proved one hurdle too many for the Panthers, who fell to a hard-fought 11.11 (77) to 12.9 (81) loss.
The South Adelaide Reserves will enjoy a weekend off, before they look to finish their season off on a high when they clash with West Adelaide at Flinders University Stadium on Saturday, 4 September, from 11:30am.