MRS Property Reserves Match Report Round 9: South vs Glenelg
Posted by Jayden Bartlett on 24 August 2020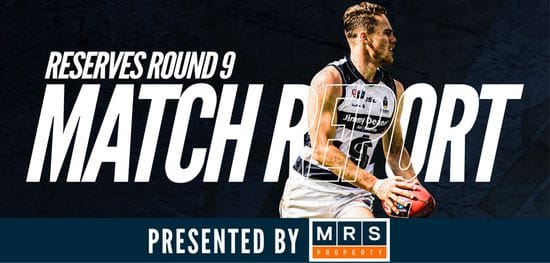 South Adelaide vs Glenelg
Round 9 - ACH Group Stadium - 22/08/20
| | | | | | |
| --- | --- | --- | --- | --- | --- |
| South Adelaide | 2.1 | 3.3 | 5.8 | 7.11 | 53 |
| Glenelg | 4.1 | 8.3 | 9.4 | 14.5 | 89 |
Goals: Bogle, McGree, Douglass, Whitbread, Oliver, Machin, Short
Best: Lippett, Whitbread, Douglass, McCreery, McGree, Elmes
Injuries: Illingworth - Ankle
South Adelaide Reserves suffer a six-goal loss at the hands of Glenelg at ACH Group Stadium on a windy Saturday.
Playing in tough conditions; the Panthers were put on the backfoot early as the home side booted four goals to two during the opening term which set the tone for the 7.11 (53) to 14.5 (89) defeat.
Marcus Lippett played well for the Panthers, as did Sam Whitbread and Aaron Douglass.
But things did not look good early for the boys in the blue and white, as Glenelg booted the opening goal within just a minute of the first bounce.
Despite having the wind advantage, the Panthers trialled by 24 points late in the opening term before back to back goals cut the deficit to 2.1 (13) to 4.1 (25) at the first change.
However, now it was the Panthers turn to defend against the strong breeze, and the second term saw Glenelg boot four goals while the Panthers could only manage just the one goal into the wind, handing them a 3.3 (21) to 8.3 (51) deficit at the main break.

With their backs against the wall, and with Cam McGree, Jake McCreery and Jackson Elmes all playing well-the Panthers attempted a late fightback to try and turn the game into their favour.
But even with the wind advance, the third term saw the Panthers only narrowly out score the home side as South Adelaide managed an inaccurate 2.5 (17) to 1.1 (7) for the quarter.
Trailing by 20 points at the final change and having to kick into the wind to finish off the match, the chances of a final fight-back looked very slim, and the Panthers eventually fell to a 7.11 (53) to 14.5 (89) defeat.
South Adelaide Reserves will now return home to Flinders University Stadium as they face Central District on Saturday August 29, from 11:30am.