Nick Liddle claims 2018 R.O Shearman Medal
6 September 2018
South Adelaide ball magnet Nick Liddle has been awarded the 2018 R.O Shearman Medal at last night's annual SA Football Hall of Fame and Magarey Medal dinner at Adelaide Oval.
Liddle racked up an impressive 99 votes to claim his first R.O Shearman Medal in emphatic fashion, polling 20 more votes than runner-up Matt Panos from Norwood (79).
The fiery redhead enjoyed another stellar season with the Panthers, averaging a team-high 25.8 touches per game and kicking 17 goals through his 19 games in 2018.
The evergreen Liddle, who has now played 173 games for South since being recruited from Coburg in 2010, joins current teammates Joel Cross (2015 & 2017) as the only two South Adelaide players to be bestowed the medal since its inception in 2000.
Second-year Panther Abe Davis (52 votes) and ruckman Keegan Brooksby (45) also polled well to finish in the top 10 for voting.
The R.O. Shearman Medal is named after five-time Sturt premiership player Bob Shearman and recognises the player judged best afield by the league's coaches.
Starting in 2000, the R.O. Shearman Medal is voted by each SANFL senior coaches on a 5-4-3-2-1 vote system to judge best players following each minor round game they contest.
Liddle's consistent season was also recognised by the League's umpires, as he collected 22 votes in the Magarey Medal count to finish equal third from eventual winner Mitch Grigg (Norwood - 26 votes) and runner-up Travis Schiller (Central - 24 votes).
Big-bodied midfielder Davis also benefited from an injury free second season, polling 11 votes in his final five games to climb to fifth on the leaderboard, while co-captains Brooksby (10) and Cross (12) also attracted votes.
Earlier in the evening former South Adelaide General Manager and Glenelg stalwart, Harry Kernahan was inducted into the SA Football Hall of Fame.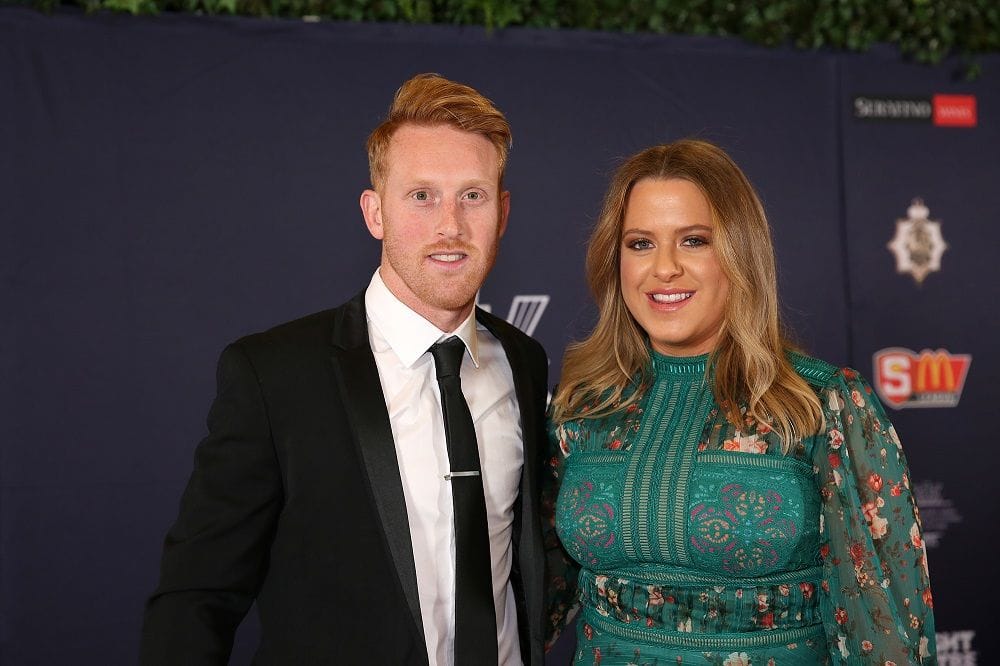 2018 R.O Shearman Medal winner Nick Liddle and wife Jess walk the red carpet ahead of last night's Magarey Medal count. Image: SANFL
2018 R. O Shearman Medal
Nick Liddle (South) 99 votes
Matt Panos (Norwood) 79 votes
Travis Schiller (Central) 77 votes
Mitch Grigg (Norwood) 76 votes
James Boyd (Eagles) 73 votes
Zane Kirkwood (Sturt) 59 votes
Kaine Stevens (West) 55 votes
Abe Davis (South) 52 votes
Matt Snook (Glenelg) 50 votes
Keegan Brooksby (South) 45 votes
Max Thring (North) 45 votes
2018 Magarey Medal
Mitch Grigg (Norwood) 26 votes
Travis Schiller (Central) 24 votes
Nick Liddle (South) 22 votes
James Boyd (Eagles) 22 votes
Abe Davis (South) 18 votes
Zane Kirkwood (Sturt) 18 votes
Matt Panos (Norwood) 18 votes
Kaine Stevens (West) 18 votes
James Battersby (Sturt) 17 votes
Max Thring (North) 15 votes