Panther Women's to Wear Navy
Posted by Jonathon Parker on 23 February 2021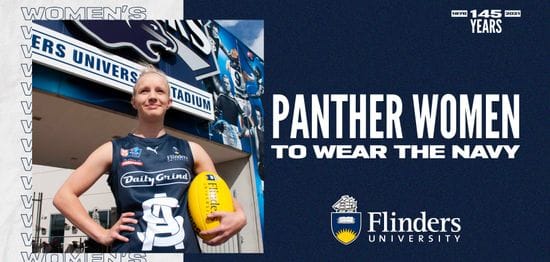 In a historic first, the South Adelaide Women will wear the iconic navy guernsey in 2021.
Following increased support from major partner Flinders University the women's team will wear the navy blue jumper in Round 1 against North Adelaide.
For the past three seasons, the South Adelaide Women's team has worn the hoops guernsey to avoid clashes with Glenelg, West and Norwood.
In a historical fact, both the senior men's and women's teams started playing in the South Adelaide Hoops guernsey.
"Flinders University have not only been a fantastic supporter of the football club for over a decade, but have been at the forefront in assisting with the women's program," said South Adelaide CEO Neill Sharpe.
"The playing group are really excited and humbled to wear the iconic jumper for the first time on Friday evening."
Flinders University Senior Deputy Vice-Chancellor Professor Clare Pollock says supporting the women's team is a further step in the rich relationship between Flinders University and the South Adelaide Football Club.
"Flinders University is proud to support a pathway for young female athletes in the SANFL Statewide Super Women's League and we look forward to the Women's team donning the traditional South Adelaide guernsey this season, especially at Flinders University Stadium, as part of our 5-year agreement as naming rights partner."
"We're particularly pleased to make this announcement in the led up to International Women's Day on March 8."
"Our overall partnership with SAFC has only strengthened in the past decade and offers exceptional opportunities for teaching and learning through placements for our sports students receiving hands on experience with elite players, leading research projects delivered by experts focused on athlete development, and also for SAFC players seeking opportunities in careers after sport."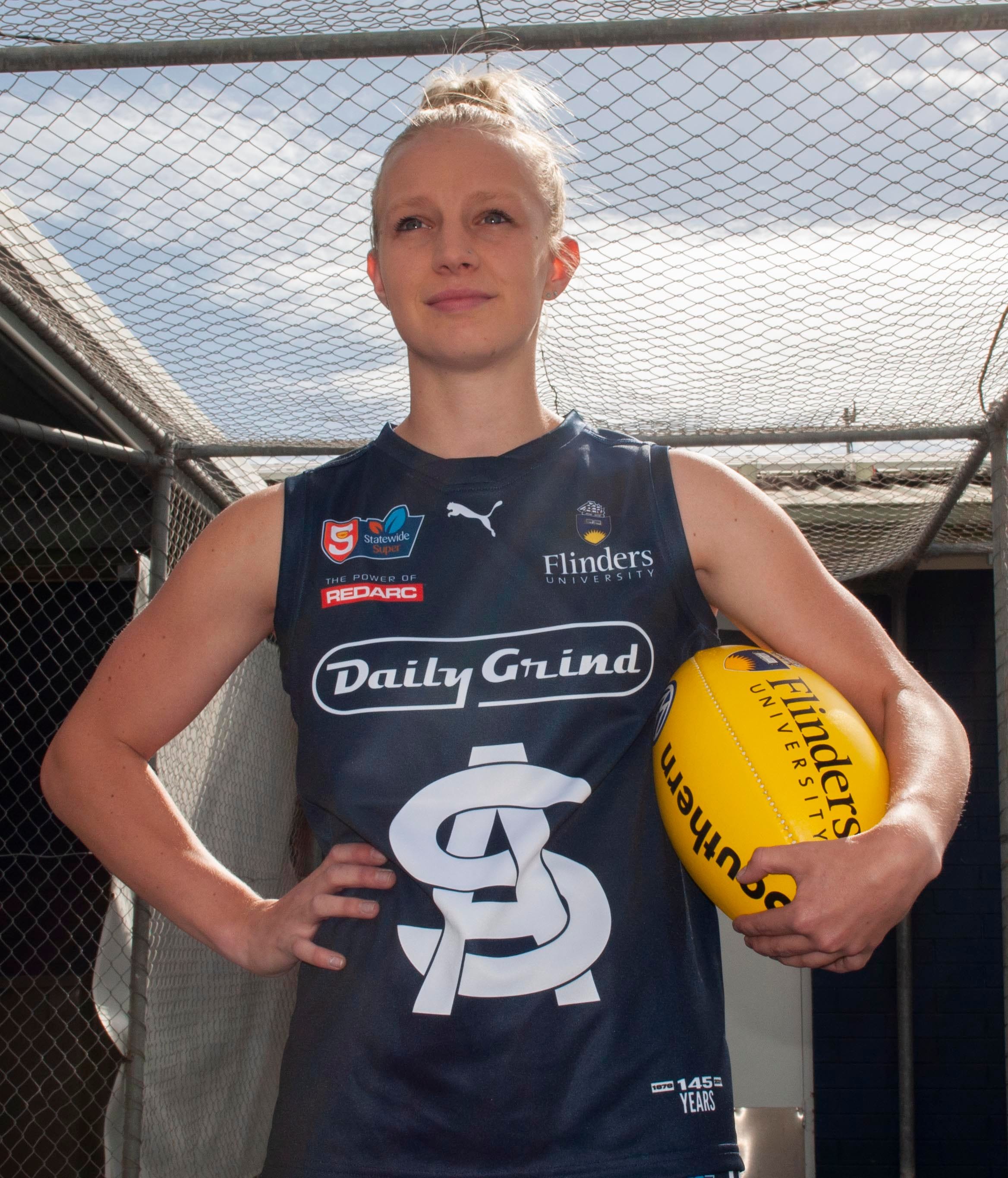 Senior Women's Leader and Flinders University Student (Bachelor of Paramedic Science) Samantha Pratt shows off the iconic Navy guernsey.
Former player Nick Liddle has, for example, transitioned into teaching while Panthers SANFL Co-Captain Joel Cross is studying a Master of Business Administration.
"We're pleased to offer our expertise and support to the club, and send our very best wishes to all the SAFC players for success in 2021," Professor Pollock said.
South Adelaide now have 14 current men's and women's players attending Flinders University to further their education and a number of current Flinders University students either volunteering or on work placement with the Club.
Don't forget to pre-order your 2021 PUMA guernsey!
Pre-orders close at 5pm on March 3.