Panthers Claim Inaugural Fast Footy Premiership
11 February 2018
Fast Footy Match Reports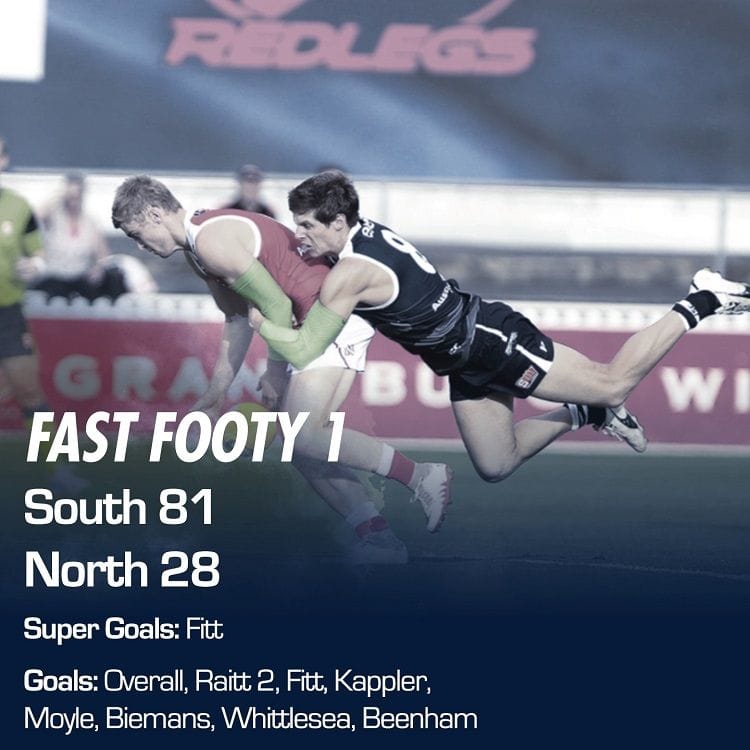 South Adelaide vs North Adelaide
Fast Footy Game 1 - Coopers Stadium - 09/02/18
| | | | | | |
| --- | --- | --- | --- | --- | --- |
| South Adelaide | 1.2.0 | 1.4.10 | 1.5.11 | 1.10.12 | 81 |
| North Adelaide | 0.0 | 0.1 | 3.2 | 4.4 | 28 |

Super Goals: Fitt
Goals: Overall, Raitt 2, Fitt, Kappler, Moyle, Biemans, Whittlesea, Beenham
South Adelaide stamped its authority on the Australian Unity Fast Footy competition with a resounding 53-point win against North Adelaide.
With key forward Sam Overall proving dangerous inside attacking 50m, the Panthers opened up a comfortable lead in the first term when youngster Liam Fitt bombed through a Super Goal.
Arguably fielding the strongest side in the two-day tournament, South led at every change to look ultra slick under new coach Jarrad Wright.
A fit-looking Overall not booted two goals but also led up the ground into open space with ease while Matt Raitt was a constant threat under his feet.
Former Magpie Keanu Miller was crafty around goals for the Roosters, booting two majors.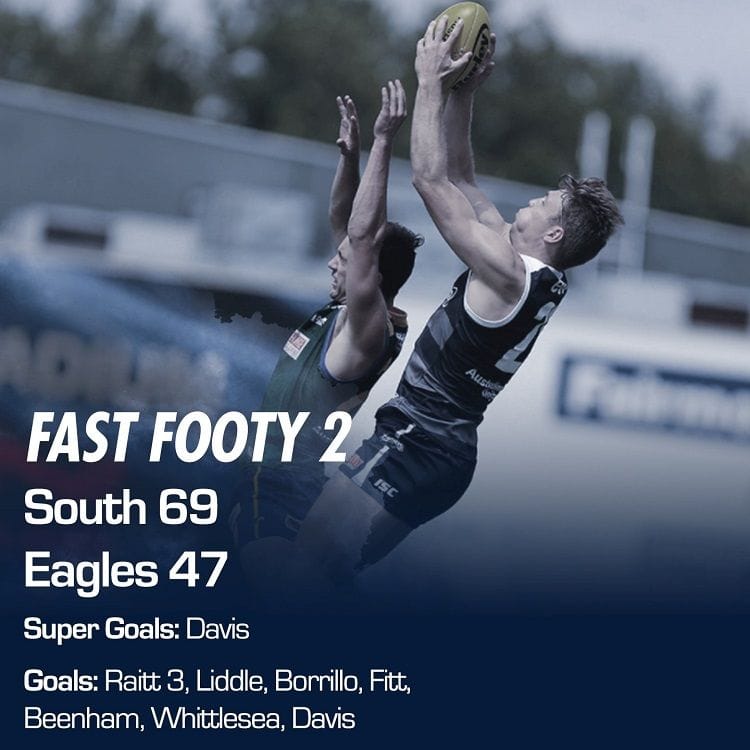 South Adelaide vs Woodville-West Torrens
Fast Footy Game 2 - Coopers Stadium - 10/02/18
| | | | | | |
| --- | --- | --- | --- | --- | --- |
| South Adelaide | 1.2.0 | 1.4.10 | 1.5.11 | 1.10.12 | 81 |
| North Adelaide | 0.0 | 0.1 | 3.2 | 4.4 | 28 |

Super Goals: Fitt
Goals: Overall, Raitt 2, Fitt, Kappler, Moyle, Biemans, Whittlesea, Beenham
South Adelaide enhanced its chances of winning the Australian Unity Fast Footy carnival by outlasting Woodville-West Torrens by points in Game 3 on Saturday.
In the most entertaining match of the tournament to date, the Panthers traded blows with the Eagles for the first half before opening the game up during the third quarter.
But it wasn't until utility Abe Davis slotted a nine-point Super Goal two minutes after the main change that the Panthers looked set to claim another vital win.
Fielding arguably the strongest line-up at the two-day carnival, South was well served by crafty forward Matt Raitt, who booted three goals for game.
The Eagles led at the main change with youngster Cooper Gaffney finding plenty of space inside 50m while Jake Cook got things rolling with the first major of the match.
Ultimately, Michael Godden's charges faded in the second half, perhaps conserving energy should they qualify for the semi-finals later in the evening.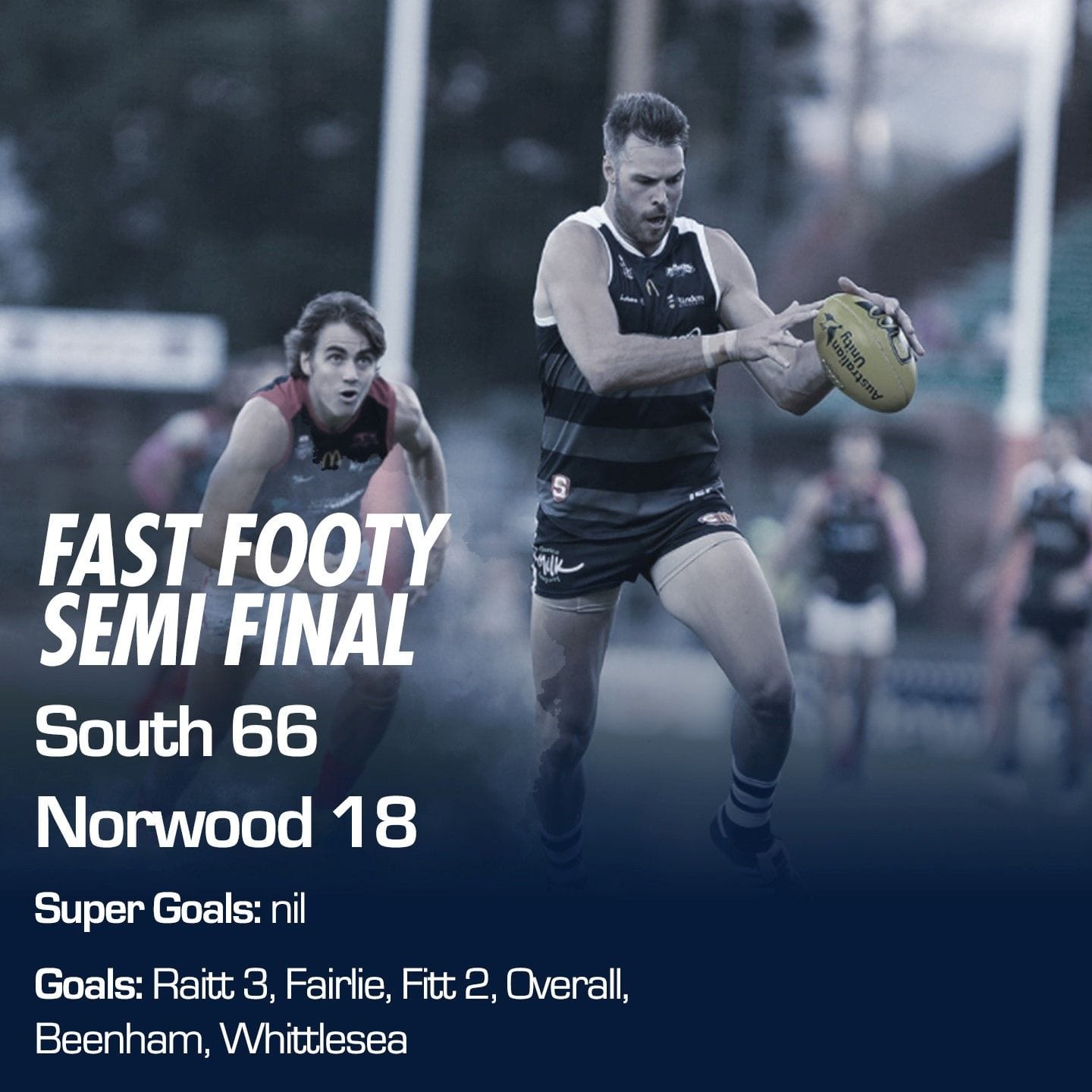 South Adelaide vs Norwood
Fast Footy Semi Final - Coopers Stadium - 10/02/18
| | | | | | |
| --- | --- | --- | --- | --- | --- |
| South Adelaide | 4.3 | 6.9 | 9.5 | 10.6 | 66 |
| Norwood | 0.2 | 1.4 | 1.5 | 2.6 | 18 |

Super Goals: nil
Goals: Raitt 3, Fairlie, Fitt 2, Overall, Beenham, Whittlesea
South Adelaide secured a berth in the Australian Unity Fast Footy Grand Final with a 48-point win against Norwood in the Second Semi-Final on Saturday evening.
Driven by yet another eye-catching performance from goalsneak Matt Raitt, the Panthers held the Redlegs to just one goal in the opening half while piling on six of their own.
Raitt, who booted three goals against the Eagles earlier in the day, snared another triple while also working hard to assist his team-mates in earning scoring opportunities.
South co-captain Keegan Brooksby was also prominent around the ground while the Panthers' other young small forwards such as Connor Fairlie, Nathan Beenham and Liam Fitt looked dangerous around Sam Overall and Tom Whittlesea.
A tired-looking Norwood outfit, which featured in the last minor round match of the day, managed just two goals for the game one to Isaac Hewson and another to TAC Cup recruit Daniel Johnston.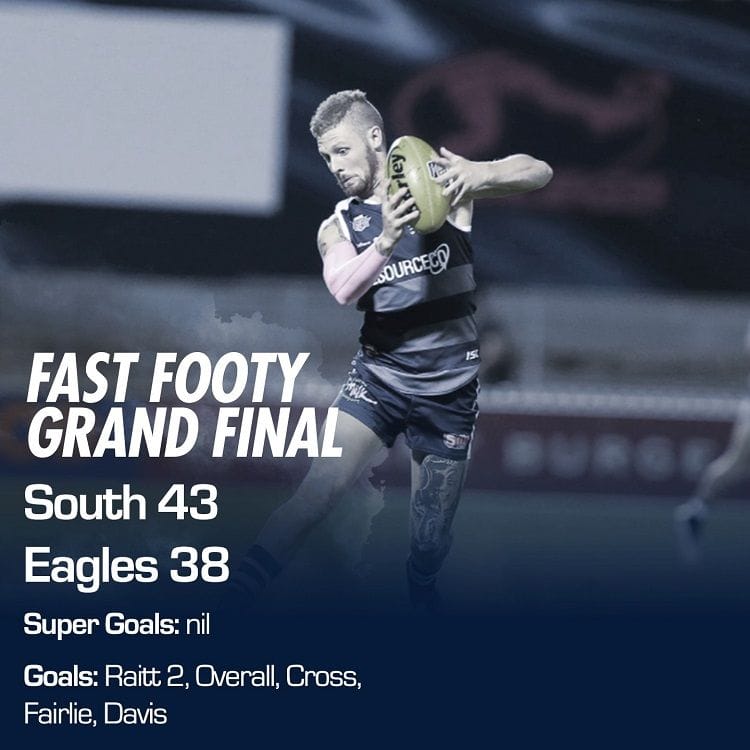 South Adelaide vs Woodville-West Torrens
Fast Footy Grand Final - Coopers Stadium - 10/02/18
| | | | | | |
| --- | --- | --- | --- | --- | --- |
| South Adelaide | 2.2 | 4.3 | 4.7 | 6.7 | 43 |
| Eagles | 1.1 | 3.4 | 4.7 | 5.8 | 38 |

Super Goals: nil
Goals: Raitt 2, Overall, Cross, Fairlie, Davis
South Adelaide has won the inaugural Australian Unity Fast Footy premiership, edging out Woodville-West Torrens by just five points in a thrilling Grand Final on Saturday night.
With scores locked together at the final change, it was the Panthers who held on after the Eagles had several costly misses in front of goal in the fourth quarter.
A penalty-shootout loomed in the title-decider when Eagle Jake Johansen had the opportunity to tie up the scores with a little more than a minute left to play.
But the former Tiger's set shot from 35m out in front faded to the right, allowing the tired but desperate Panthers to run the ball out of danger to the other end of the field.
Five minutes earlier, it appeared the Panthers had all but sewn up the $10,000 prize pool thanks to Australian Unity, when Matt Raitt's second major was closely followed by another from Abe Davis.
This only triggered Jake Weidemann to find space on the goalline to put the Eagles within six points with just three minutes to play but luck was on the side of South, who triumphed under new coach Jarrad Wright.
Victory would have been a sweet tonic for Wright, who played and coached at Oval Avenue previously, as well as former Eagles Tom Whittlesea and Jake Summerton who crossed to Noarlunga in the off-season.
Raitt was again amongst his side's best performers while unheralded defender Joe Haines showed plenty of desperation in the final stages of the contest.
The Eagles who took home a $5,000 prize for runner-up were well served by former Magpie Tom Gray who booted two goals and was particularly creative while Angus Poole and James Rowe also had their moments.