Rick Watts signs on as Senior Women's Coach
24 September 2019
South Adelaide is pleased to announce that Rick Watts will continue on as the Panthers Senior Women's Coach in 2020.
Watts has signed a new one year deal that will see him continue on at the helm of the Senior Women's team until the end of 2020.
"The Club is extremely happy that Rick has extended his tenure at the Panthers" said Panthers Chief Executive Officer, Neill Sharpe.
"The work Rick has done over the last year has been outstanding, he brings plenty to the table and the focus on developing our players has helped push the competition forward."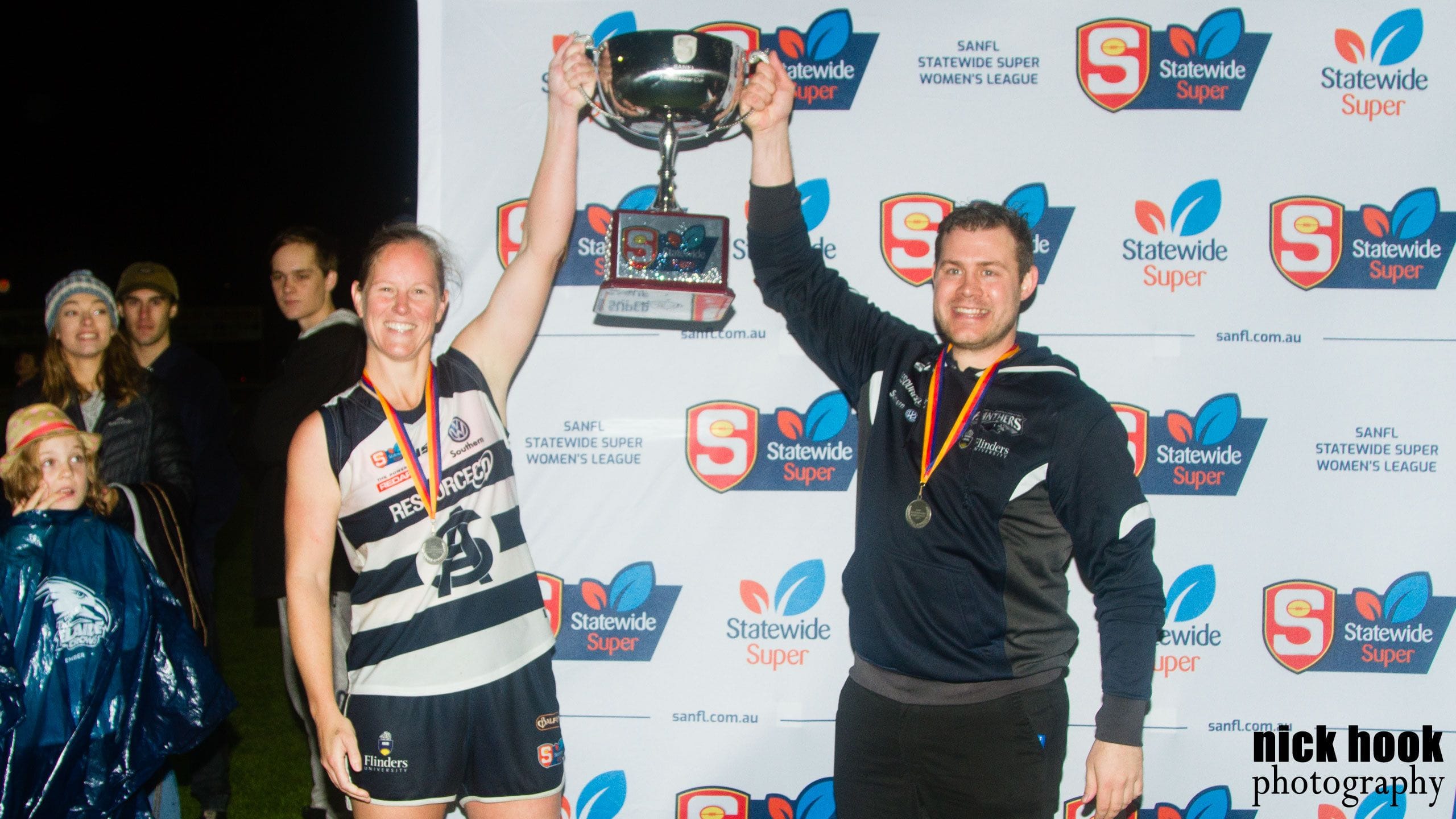 Watts a Year: Senior Women's Premiership Coach, Rick Watts and Dual Premiership captain Lauren Buchanan raise the cup after this years win over North Adelaide. Image: Nick Hook - Insanity Multimedia.
Originally from Victoria, which included time as a player with Williamstown in the VFL, Watts began his coaching career with University High School-Victoria University Amateur Football Club (UHSVU) in 2009.
Moving to South Australia in 2013 he became familiar with the southern area through his involvement with the Christies Beach Football Club as a player and a coach.
At the conclusion of the 2019 SANFLW season, Watts also held a coaching position with Port Adelaide as part of the SANFLW exhibition matches played against the Crows.
Watts took over the top job at the end of 2018, after coach Krissie Steen moved onto a coaching opportunity with GWS in the AFLW last season.
"I'm really excited to continue on here at South Adelaide" said Mr Watts.
"Over the last two years we have been a part of something special, and myself and our coaching group want to keep developing our amazing playing group"
"We're close to having a finalised list, our focus will turn to reviewing our game plan to ensure we are innovative and progressive"
Rick Watts
Senior Head Coach South Adelaide Senior Women (Premiers 2019)
Assistant Coach South Adelaide Senior Women (Premiers 2018)
Assistant Coach Adelaide University Women (Premiers 2017)
Head Coach Morphettville Park Women (Premiers 2016)
Assistant Coach Morphettville Park Women (Premiers 2015)