Rick Watts Steps Down
9 October 2020
Premiership Women's Coach Rick Watts to step down.
The South Adelaide Football Club advises that 2019 Premiership Coach Rick Watts will step aside from the Women's head coaching role.
South Adelaide CEO Neill Sharpe said Rick, having joined the Club at the very beginning, had done an outstanding job in our female football program.
"Joining as an Assistant Coach in 2018, he went seamlessly into the Head Coaching role in 2019 winning the Panther's second premiership."
"He is a passionate advocate of women's football and our program and all our participants have been better for his involvement."
Watts, who has recently started a family said this was the main factor for the decision.
"Having just started a family with my wife Bess, I have made this hard decision because I don't believe I have the time and energy to give the role another full year of commitment and dedication that the players deserve." Said Senior Coach Rick Watts.
"I would like to thank the club for the support over the last three seasons and I am hoping to stay involved in a lesser capacity."
Originally from Victoria, which included time as a player with Williamstown in the VFL, Watts began his coaching career with University High School-Victoria University Amateur Football Club (UHSVU) in 2009.
Moving to South Australia in 2013 he became familiar with the southern area through his involvement with the Christies Beach Football Club as a player and a coach.
Watts took over the head coaching role in 2019 after now rival coach Krisse Steen left the role for a short-lived tenure with the Giants in the AFLW.
Rick Watts
Senior Head Coach South Adelaide Senior Women (Premiers 2019, Runners-up 2020)
2019 Advertiser SANFLW Team of the Year Coach
Assistant Coach South Adelaide Senior Women (Premiers 2018)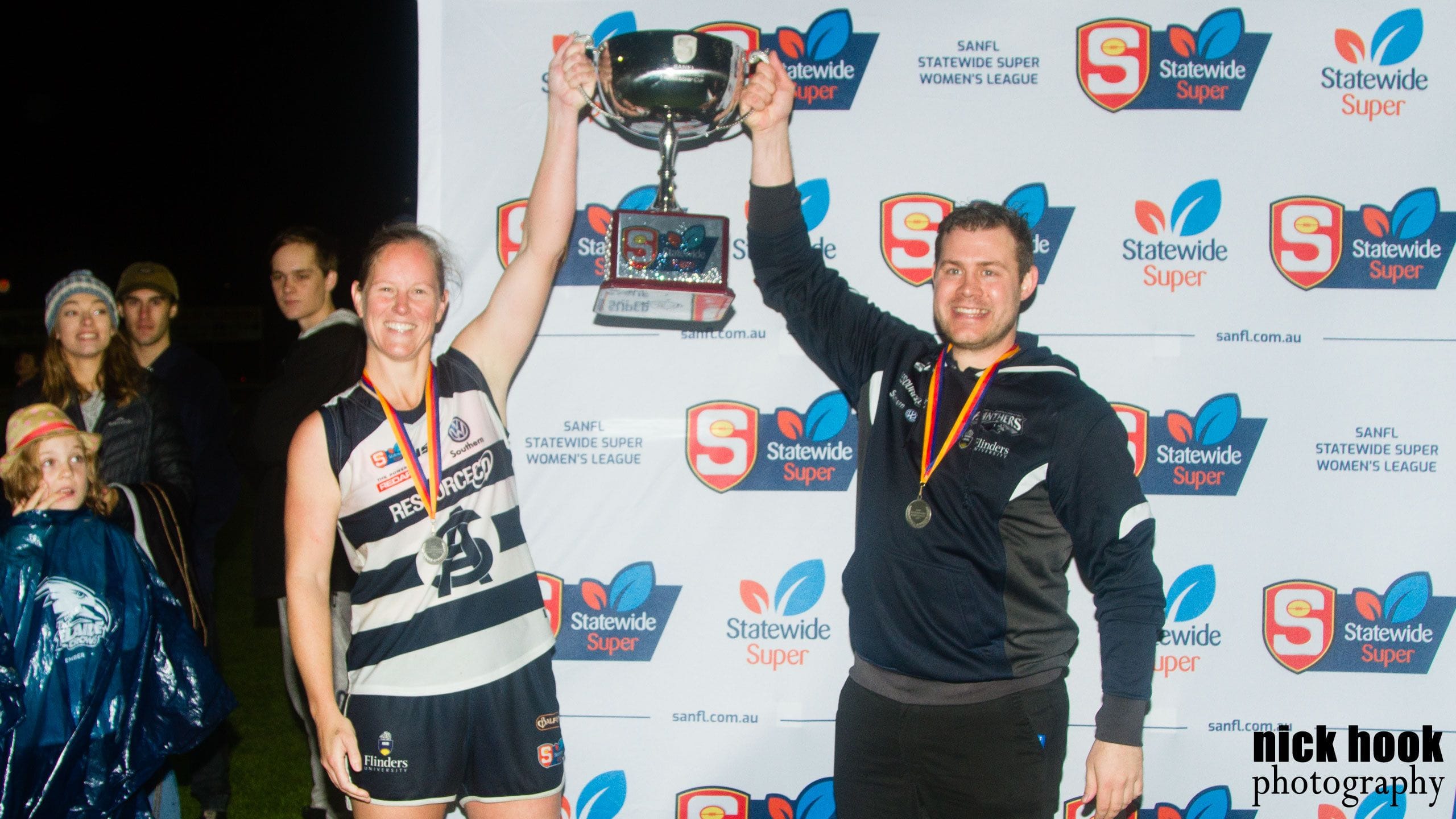 Retiring Dual Premiership Captain and outgoing Senior Coach Rick Watts hold aloft the 2019 Premiership Cup. Image Nick Hook Photography