Round 12: South vs Port - Teams
Posted by South Adelaide Football Club on 16 June 2016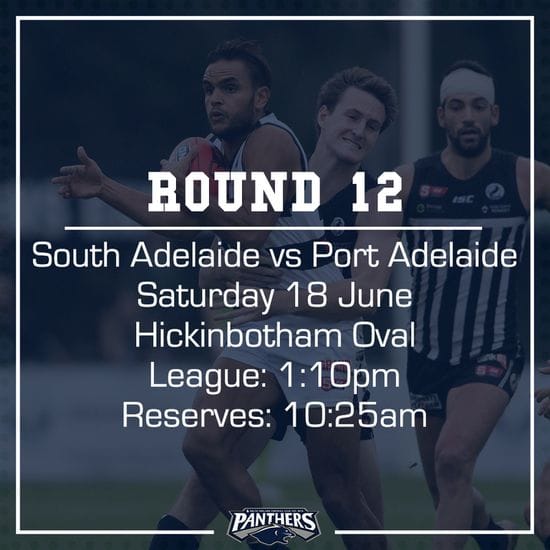 Panthers Prepare to Maul Magpies
South Adelaide are looking for revenge as they host Port Adelaide at Hickinbotham Oval this Saturday - League 1:10pm, Reserves 10:25am; Adult $14, Concession $8, Under-18s FREE.
The Panthers will be eager to atone for their poor showing against the Magpies in Round 9, which saw them fall 48 point short at Alberton Oval.
Since then South has only played one game, with their comfortable win against North Adelaide in Round 10 sandwiched by the State Game and another bye. Meanwhile, Port Adelaide has been winless in that time, recording back-to-back losses to Glenelg and Sturt.
Despite the bye, Cameron Hitchcock (hamstring) and Alex Cailotto (ankle) are unavailable to front up against the Magpies after being injured against the Roosters.
Coming into the side is the excitement machine Emmanuel Irra, who was best afield for the Reserves against North, versatile defender Nathan Daniel, former Magpie Luke Durdin and young gun Ben Heaslip, who have all also spent time with the League team earlier in the year.
Port Adelaide will be boosted by the return of AFL forward Jay Schulz, who will be making his return from back surgery through the SANFL.
In the Reserves, youngster Jake Anderson and James Wray return to the side, while the only players missing from the side that took on North Adelaide are those elevated to the League's extended bench.

Local guns Jake Veide and Emmanuel Irra model the club's 140 Year Heritage Jumper
Saturday also marks the club's celebration of 140 years of history, with the League side donning unique heritage guernseys (pictured above) that feature the names of those that have played for South Adelaide since 1876.
Match worn jumpers will be signed and available for auction at the club's Blue & White Ball that night, while replicas are available for pre-order from the club (8186 8200 or reception@safc.com.au) or online.

The first 50 supporters through the gate on Saturday will receive a FREE Panthers West End beanie.
South Adelaide have enjoyed a strong start to the year and are undefeated in Noarlunga this season. Let's keep it that way! We need the support of the blue and white faithful to cheer us on against Port. Get to Hickinbotham Oval on Saturday and get behind the boys!
The first 50 supporters through the gate will take home a FREE Panthers West End beanie. It is forecast to be a cold afternoon so make sure you get to Hickinbotham Oval early to keep your head warm!
Remember, it isn't home ground advantage unless you're there!
Presentations will be held at the Blue & White Ball.
If you cannot make it to Hickinbotham Oval on the weekend download the SAFC App for live scores, stats and radio call of the game! The SAFC App is available for free download from both the App Store and Google Play.
Or tune into Channel 7 for live coverage from 1pm onwards.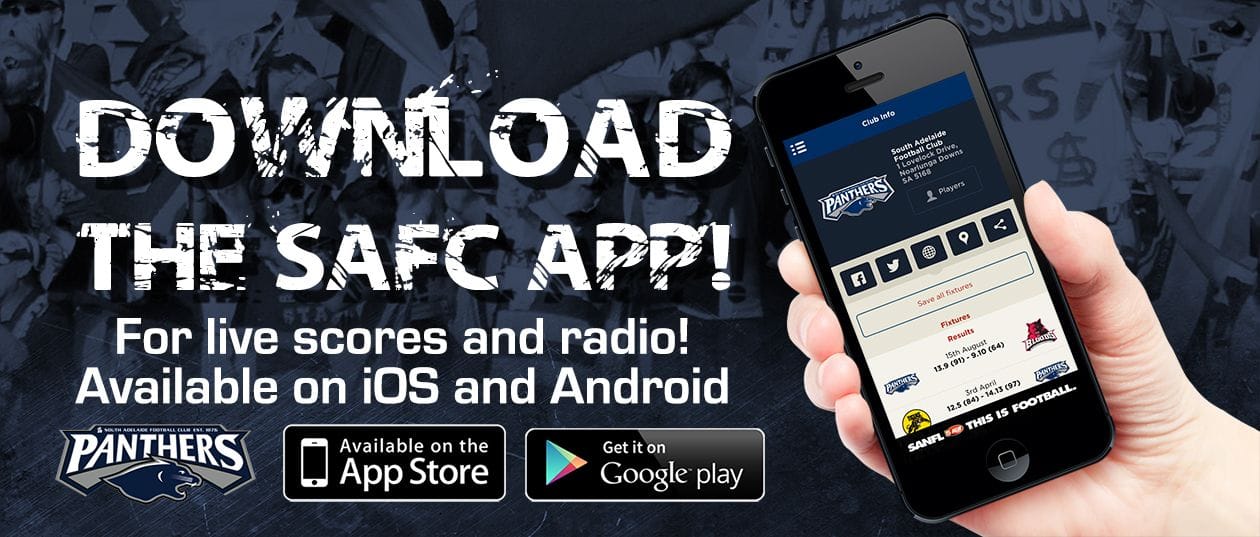 Round 12 Teams
Proudly sponsored by


League - 1:10pm
F: Seccull, Eddy, Gotch
HF: Schwarz, Haren, Barnes
C: Newell, Veide, Irra
HB: S. Taylor, Brown, Gulden
FB: Rose, Crabb, Fields
R: Bass, Cross, Liddle
INT: Trembath, Heaslip, Durdin, Daniel, Rankine
IN: Heaslip, Irra, Durdin, Daniel
OUT: Hitchock (hamstring), Cailotto (ankle)
Reserves - 10:25am
F: Fairlie, Kokkinakis, Ellison
HF: McMahon, Overall, Moyle
C: P. Kerin, Nichols, Haines
HB: O'Shaughnessy, Brooks, Szust
FB: Jolly, Darrou, Bartram
R: Steffe, Anderson, Ah Chee
INT: Wray
IN: Anderson, Wray
OUT: Heaslip (league), Irra (league), Daniel (league), Durdin (league)
Author:
South Adelaide Football Club