Round 14: South vs Norwood - Teams
30 June 2016
Panthers Ready to Rattle Redlegs
This Saturday is a Panthers triple-header at Coopers Stadium, with important games for all grades as South Adelaide prepare to rattle the Redlegs.
League 2:10pm, Reserves 11:25am, Under-18s 5:00pm, Post Match 6:00pm - Saracen's Head Hotel
Adult $14, Concession $8, Under-18s FREE.
South Adelaide will be keen to make amends for a poor showing against Woodville-West Torrens last week and to complete a season sweep of the Redlegs.
A win over Norwood will also be vital to the Panthers keeping touch with the rampant Eagles in second place on the ladder and maintaining their advantage over fourth-place Centrals, with each side (Eagles vs West Adelaide and Central District vs Port Adelaide) coming up against teams lower than them on the ladder.
For a full breakdown of the match-up check out this week's match preview here.
Brad Gotch has again opted for a cool head and steady hand at the selection table, with two ins and no outs for the League side.
Gut running midfielder Richard Newell has been recalled after amassing 32 touches in the Reserves last weekend, while high-flying youngster Sam Overall has also received a call up following a run of strong form in the twos.
Unfortunately, injuries have hit the Reserves harder than the League side, with Adam Blakely losing Pat Kerin to an ankle injury and Nathan Daniel to concussion.
However, Alex Cailotto is set to return to the field after being a late withdrawal with an ankle complaint against the Eagles, while versatile tall Pan Kokkinakis and midfielder James Wray will also return.
2016 has been the "Year of the Milestone" for the Panthers, with Tarak Redigolo (100 games), Matt Rankine (50), Brad Crabb (150), Jake Veide (100) and Nathan Daniel (100 games for SAFC) all notching significant marks so far this season. Against the Redlegs, tough midfielder and 2015 Knuckles Award winner Brede Seccull will play his 50th game for South Adelaide since joining the club from Collingwood VFL in 2013.
In the midst of a three-game stretch of away games, celebrating Brede's 50th game and the chance to support our juniors all on the same afternoon, the boys need your support more than ever! Make sure you get to Coopers Stadium this Saturday and get behind the team!
The club will also be holding a post match get together at Saracens Head Hotel from 6pm. It is a great chance to meet and mingle with the players and coach - see you there!
If you cannot make it to the Parade on the weekend download the SAFC App for live scores, stats and radio call of the game! The SAFC App is available for free download from both the App Store and Google Play.
Or tune into LifeFM for live radio coverage from 2.00pm onwards.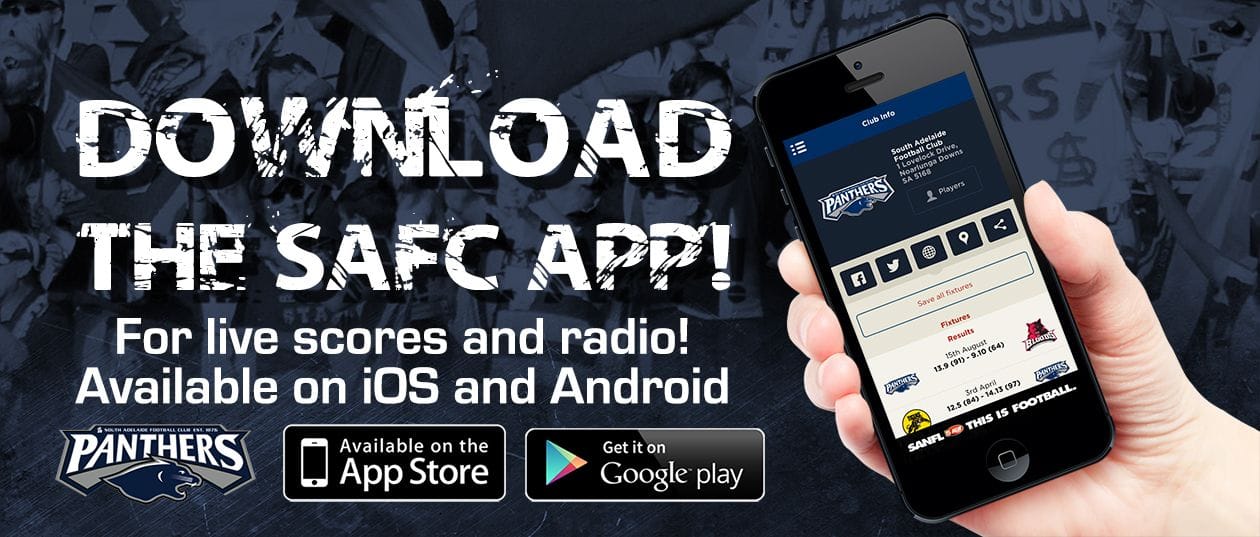 Round 14 Teams
Proudly sponsored by


League - 2:10pm
F: Seccull, Eddy, Gotch
HF: Rankine, Haren, Barnes
C: Brown, Veide, Irra
HB: S. Taylor, Durdin, Gulden
FB: Rose, Crabb, Fields
R: Bass, Cross, Liddle
INT: Overall, Heaslip, Newell, Schwarz, McMahon
IN: Newell, Overall
OUT:
Reserves - 11:25am
F: Fairlie, Trembath, Ellison
HF: Szust, Kokkinakis, Ah Chee
C: Moyle, Nichols, Haines
HB: de Visser, Cailotto, Jolly
FB: O'Shaughnessy, Darrou, Bartram
R: Steffe, Anderson, Wray
INT: Need
IN: Wray, Cailotto, Kokkinakis
OUT: Overall (league), Newell (league), P. Kerin (ankle), Daniel (concussion)
Under-18s - 5:00pm
J. Fitzgerald, J. McKinnon, C. Helyar, J. Tyllis, N. Steele, J. Daniels, L. Fitt, S. Lawrie, S. Draper, N. Kreuger, R. Mayes, R. Mountford, R. Williams, J. Wright, B. Snelling, B. Millman, J. Manuel, A. Albanese, N. Scanlan, H. Bruce, Bo. Sowter, J. Colwell, T. Davies, T. Stone, J. Edwards