Round 20: South vs North - Teams
11 August 2016
Panthers Plan to Prosper at Prospect!
This Saturday South Adelaide head to Prospect Oval to face North Adelaide, with a win proving pivotal to the Panthers chance at claiming a top two finish.
League 2:10pm, Reserves 11:25am
Adult $14, Concession $8, Under-18s FREE
The Panthers are coming off of strong wins against West Adelaide and Sturt in the past fortnight and have secured both their position in the finals and the crucial second chance come September action.
However, with three teams tied atop the SANFL Ladder (Eagles, South and Sturt) and separated by just percentage, the Panthers' chances at finishing top of the league are still alive.
A win against the Roosters will be the first step to securing at least a top two finish for Brad Gotch's men - for an in-depth breakdown of the South/North match up check out this week's Match Preview here.
Get fired up for this weekend's game with this 2016 Highlight Reel!
The Panthers have had to make just one forced change ahead of Saturday's game, with utility Jake Veide set to miss this week thanks to a knee injury suffered against Sturt in Round 19.
Coming into the side's extended bench will be big man Codey Ellison, who was a late withdrawal against the Double Blues, and speedsters Joe Haines and Emmanuel Irra, who have been performing well in the Reserves in recent weeks.
Adam Blakely's Reserves have been strengthened by the inclusion of skillful midfielder Roland Ah Chee and big-bodied defender Ben Darrou, who will both make their returns after lengthy stints on the sidelines with hamstring and groin issues respectively.
Meanwhile, Dylan Whimpress will be making his debut at senior level through the twos after a strong season in the Under-18s, which includes selection to the SA Under-18s State team and an invitation to the SA AFL State Combine.
This weekend also marks Cameron Hitchcock's 50th SANFL game. The exciting forward/midfielder will reach 50 games with the Panthers after previous stints in the SANFL with Glenelg and Port Adelaide Magpies during his time on the Port Adelaide Power's AFL list.
With only two minor round games remaining and places in the top three still up for grabs, make sure you get out to Prospect Oval this Saturday to cheer the guys on!
However, if you cannot make it North on the weekend download the SAFC App for live scores, stats and radio call of the game! The SAFC App is available for free download from both the App Store and Google Play.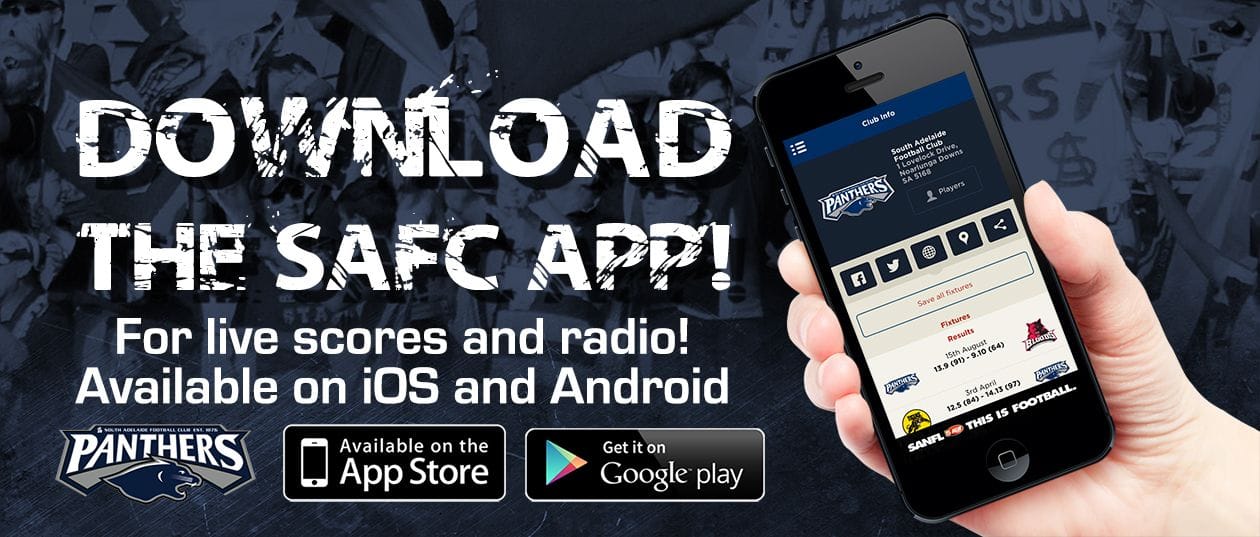 Round 20 Teams
Proudly sponsored by


League - 2:10pm
F: Seccull, Eddy, Gotch
HF: Hitchcock, Haren, Barnes
C: Brown, Newell, Rankine
HB: S. Taylor, Fields, Gulden
FB: Rose, Crabb, Durdin
R: Bass, Cross, Liddle
INT: Ellison, Schwarz, Irra, Haines, McMahon
IN: Haines, Irra, Ellison
OUT: Veide (knee)
MILESTONES: Cameron Hitchcock - 50 Games
Reserves - 11:25am
F: Wray, Trembath, Hawkins
HF: Moyle, Kokkinakis, Szust
C: Daniel, Heaslip, Ah Chee
HB: Darrou, de Visser, Whimpress
FB: O'Shaughnessy, Cailotto, Bartram
R: Steffe, Anderson, Nichols
INT: Jolly
IN: Ah Chee, Darrou, Whimpress
OUT: Haines (league), Irra (league), Fairlie (omitted), Blackwell (omitted)
NEW: Dylan Whimpress (SAFC Under-18/Freeling)
Under-18s - 11:25am
vs Central District @ Hickinbotham Oval
N. Steele, N. Beenham, S. Whitbread, J. Colwell, J. Fitzgerald, L Fitt, J. Wright, J. McKinnon, J. Manuel, N. Scanlan, B. Snelling, T. Coleman, H. Sampson, N. Kreuger, S. Lawrie, J. Tyllis, R. Mountford, J. Edwards, A. Albanese, H. Bruce, S. Draper, J. Daniels, T. Stone, J. Fitzpatrick