Round 22: South vs Adelaide - Teams
25 August 2016
One Last Dance at Hickinbotham Oval!
This Saturday South Adelaide play host to the Adelaide Crows in their last game at Hickinbotham Oval in 2016, with a chance to claim a 10-0 clean sheet at home.
League: 2:10pm
Junior Girls: from 10:30am
Tickets: Adult $14, Concession $8, Under-18s FREE
Parking: $5 - around oval to commence from 12:30pm
The Panthers are in the midst of a four-game winning streak and coming off a bye in Round 21, but come up against a rampaging Crows outfit that registered a mammoth 179 points against West Adelaide last weekend - the highest total points kicked by a team in 2016.
Both South and Adelaide have already secured their position at Adelaide Oval in September and it will be an intriguing contest between two sides that may be destined to meet at some point during the finals series - for an in-depth breakdown of the Panthers/Crows match up check out this week's Match Preview here
Consistency has often been the key to South's success this season and Brad Gotch and his selection panel have again opted for a steady hand when placing the magnets this week.
The electric Emmanuel Irra has joined an extended bench, but the Panthers will otherwise take the same team into Round 22 that faced the Roosters at Prospect in Round 21.
With no Reserves game this weekend, South's junior girls teams will play as the curtain-raiser to the League game, with the Panthers Under-14 and Under-16 girls set to kick their season off against West Adelaide at 10:30am and 12:00pm respectively.
Meanwhile, the club's Under-18s will conclude their 2016 season on Saturday morning at City Mazda Stadium as they also take on the Bloods.
With only one minor round game remaining and a chance to sweep our home series 10-0 for the first time since moving to Noarlunga in 1995 make sure you get out to Hickinbotham Oval to cheer to boys on!
However, if you cannot make it Lovelock Drive on the weekend download the SAFC App for live scores, stats and radio call of the game! The SAFC App is available for free download from both the App Store and Google Play.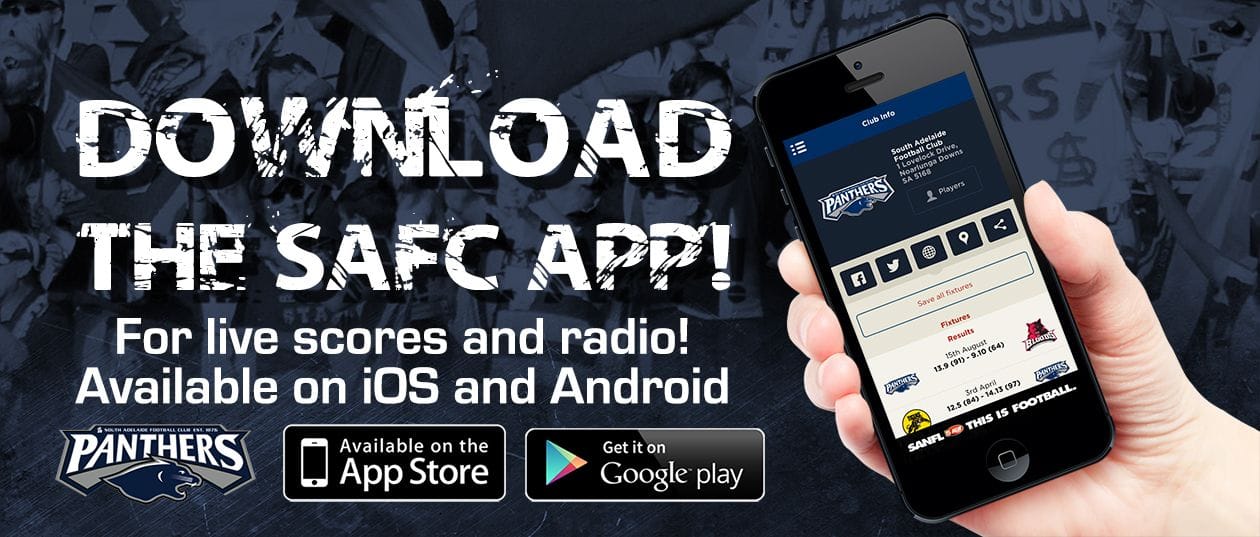 Round 22 Teams
Proudly sponsored by


League - 2:10pm
F: Seccull, Eddy, Gotch
HF: Hitchcock, Haren, Barnes
C: Brown, Newell, Rankine
HB: S. Taylor, Fields, Gulden
FB: Rose, Crabb, Durdin
R: Bass, Cross, Liddle
INT: Ellison, Schwarz, Irra, McMahon
IN: Irra
OUT:
Under-18s - 11:25am
vs West Adelaide @ City Mazda Stadium
N. Beenham, H. Sampson, T. Coleman, N. Scanlan, S. Whitbread, R. Irra, C. Machin, R. Mayes, T. Illingworth, H. Bruce, L. Fitt, E. Wilkinson, J. Daniels, J. Tyllis, B. Millman, N. Kreuger, N. Steele, B. Snelling, J. McKinnon, S. Lawrie, J. Fitzgerald, J. Wright, A. Albanese, S. Draper, J. Weller
Under-16 Girls - 12:00pm
vs West Adelaide - squad below
H. Smith, A. Thomas, D. Nicolescu, L. Downing, T. Morris, Z. Morris, T. Levy, C. Gladwin, E. Brown, L. Hamon, L. Fuller, M. Worsley, T. Bohnsack, S. Steele, C. Shaw-McMillan, B. Ramsey, B. Bosley, G. Hutchinson, J. Smith, L. Weekley, M. McKinnon, C. Schmidt, N. Bell, S. Hissey, B. Thompson, D. Grantham, N. Gore, S, Grantham, S. Forbes, K. Kramer, J. Wise
Under-14 Girls - 10:30am
vs West Adelaide - squad below
C. Kennedy, K. Benson, L. Clifton, S. Noble, R. Rivalland, S. Wright, A. Dean, C. Reimann, M. Wagenknecht, K. Russell, A. Morris, N. Nolan, O. Downing, A. Moore, E. Thomas, G. Perry, K. Hill, K. Martin, R. Overall, B. Lang, B. Kraft, C. Quigley, S. Paterson, H. Lewis, I. Leon, M. Bentley, M. Taylor, N. Tydeman, H. Barrett, O. Osborne, E. Temme, T. Howden, T. Charlton