Round Eight: South vs Sturt - Teams
Posted by South Adelaide Football Club on 12 May 2016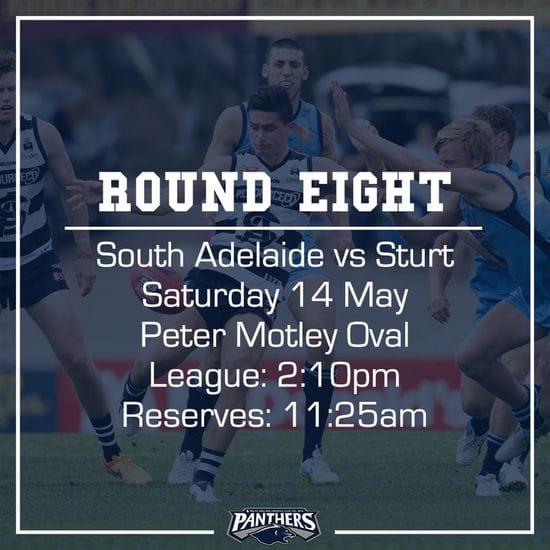 South Seeking Super Seven Versus Sturt
South Adelaide will be looking to extend their unbeaten start to the season to seven games and maintain their position atop the SANFL IGA League ladder as they face Sturt at Peter Motley Oval this Saturday - League 2:10pm, Reserves 11:25am.
Last weekend, the Panthers equalled their best start to a season since 1965 after recording their sixth consecutive win in a physical encounter with Norwood.
However, South's victory came at a cost, with lead ruckman Daniel Bass reported for striking and accepting a two match ban and Tom Fields (concussion) and Emmanuel Irra (ankle) joining Adam Gulden on the Panthers injury list.
Sturt will be no easy beats for Brad Gotch's men either. The Double Blues currently sit third on the ladder and are coming off a bye with some strong form behind them - four consecutive wins after dropping their opening game of the season.
With three forced outs, Gotch and his selection committee have made five potential changes to the side that took down the Redlegs by 23 points in round seven.
Xavier Gotch has been named in a back pocket after successfully negotiating his return from a hamstring niggle in the Reserves last weekend. Also strong performers in the twos, midfielder Richard Newell, defender Scott Taylor and utility Pat Kerin have been named on an extended bench, while young big man Peter Steffe looks set to shoulder the ruck load in the absence of Bass.
If selected, Newell (West Adelaide) and Steffe (McLaren - GSFL) will be making their debuts for the Panthers.
Meanwhile, reliable defender Nathan Daniel will be making his 100th appearance for South Adelaide since joining the Panthers from Woodville-West Torrens in 2011.
In the Reserves, forwards Tom Jolly and Pan Kokkinakis return to the fold, while new recruit James Wray is set to make his first appearance for South Adelaide.
In the juniors, the Panthers Under-16s will be playing for a Grand Final berth as they face Glenelg at Football Park from 7:20pm on Thursday night, while the Under-18s will be hoping to build on their strong performance against the Eagles last week with another good outing against the Tigers at home on Saturday afternoon.
Following the League game this weekend, presentations will be held at the Saracens Head Hotel (82 Carrington Street, Adelaide) from 6pm. All supporters are welcome to attend and it is a great chance to hear from the coach and meet the players and fellow Panthers supporters.
And remember if you cannot make it to Unley on the weekend to download the SAFC App for live scores, stats and radio call of the game against the Double Blues! The SAFC App is available for free download from both the App Store and Google Play.
Round Eight Teams
Proudly sponsored by


League - 2:10pm
F: Barnes, Haren, Overall
HF: Cross, Eddy, Hitchcock
C: Schwarz, Seccull, Daniel
HB: de Visser, Cailotto, Redigolo
FB: Rose, Crabb, Gotch
R: Steffe, Veide, Liddle
INT: Brown, Newell, P. Kerin, Taylor, Rankine
IN: Newell, P. Kerin, Taylor, Steffe, Gotch
OUT: Bass (suspension), Fields (concussion), Irra (ankle)
NEW: Richard Newell (West Adelaide), Peter Steffe (McLaren - GSFL)
MILESTONES: Nathan Daniel - 100 games for South Adelaide
Reserves - 11:25am
F: Szust, Trembath, Kokkinakis
HF: Moyle, McMahon, Ah Chee
C: Kappler, Nichols, Haines
HB: O'Shaughnessy, Giddings, Wray
FB: Durdin, Darrou, Bartram
R: Ellison, Heaslip, Anderson
INT: Jolly
IN: Kokkinakis, Jolly, Wray
OUT: Gotch, Newell, Steffe, P. Kerin, Taylor, Need
Under 18s
South Adelaide vs Glenelg - Saturday 14 May - 11:25am - Hickinbotham Oval
N. Beenham, T. Stone, N. Scanlan, C. Lock, R. Mayes, R. Williams, H. Bruce, R. Mountford, J. Daniels, J. Tylliss, B. Millman, D. Whimpress, N. Kreuger, J. Brown, C. Helyar, Bo. Sowter, N. Steele, R. Collier, J. McKinnon, S. Lawrie, J. Fitzgerald, J. Wright, A. Albanese, J. Edwards, S. Draper, J. Weller
Under 16s - Semi Final
South Adelaide vs Glenelg - Thursday 12 May - 7:20pm - Football Park
M. Short, I. Lallard, G. Bayliss, H. Sampson, J. Manuel, L. Hutchinson, L. Bradley, J. Bradford, J. Fitzgerald, F. Penn, R. Crombie, A. Douglass, D. Sladojevic, T. Sparrow, J. Beeche, L. Bogle, T. Coleman, J. Colwell, R. Milsom, E. Wilkinson, T. Davies, S. Whitbread, T. Oliver, J. Bastian
Author:
South Adelaide Football Club