Round One: South vs Glenelg - Teams
Posted by South Adelaide Football Club on 24 March 2016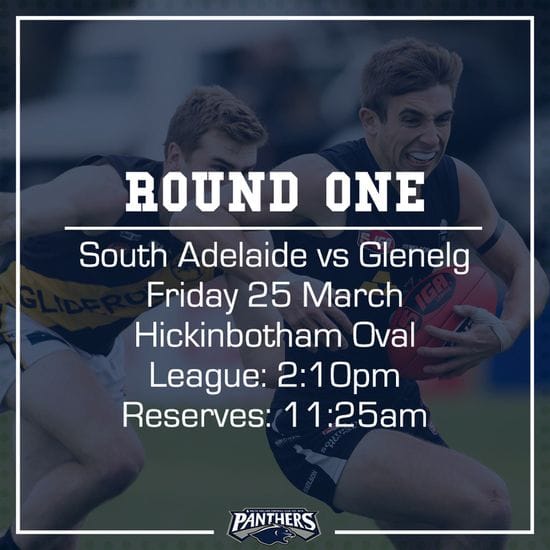 Panthers Kick off 2016 With Good Friday Footy Against Glenelg
South Adelaide kick off 2016 against coastal rivals Glenelg with the traditional Good Friday clash at Hickinbotham Oval - League 2:10pm, Reserves 11:25am
The Panthers welcome returning duo Tom Fields and Cam de Visser back into the fold, while local talent Rigby Barnes (Encounter Bay) and former Port Adelaide Power goalsneak Cameron Hitchcock will make their debut for the league side.
2015 Magarey Medallist Joel Cross has been declared fit to tackle the Tigers after a standout performance against Central Districts in the Panthers final trial game.
However, Knuckey Cup runner-up Matt Rose will miss 4-6 weeks with a broken hand. Recently promoted to a vice-captaincy, Rose injured his hand against the Bulldogs and successfully underwent surgery on Monday.
Off season recruits, Codey Ellison (Reynella) and Richard Newell (West Adelaide) will hit the park with the reserves, as will exciting, but injury plagued defender Ben Darrou.
Round One Teams
Proudly sponsored by


League - 2:10pm
F: Overall, Haren, Barnes
HF: Hitchcock, Eddy, Cross
C: Irra, Seccull, Fields
HB: Redigolo, de Visser, Gulden
FB: Rankine, Crabb, Daniel
R: Bass, Veide, Liddle
INT: Taylor, Cailotto, Schwarz, Heaslip, Gotch
New: Rigby Barnes (Encounter Bay), Cameron Hitchcock (Ironbank)
Reserves - 11:25am
F: Ah Chee, Kokkinakis, Ellison
HF: Jolly, McMahon, Szust
C: Moyle, Newell, P. Kerin
HB: Anderson, Giddings, Brown
FB: Darrou, Durdin, Bartram
R: Steffe, Nichols, Fairlie
INT: Dominish, Brooks
Under-18 - Thursday 24 March - 7:00pm
F: Stone, Steele, Baker
HF: Daniels, Bradshaw, L. Borrillo
C: C. Williams, A. Albanese, R. Williams
HB: Bruce, J. McKinnon, Fitzgerald
B: Millman, Riggs, Irra
R: Gurney, Helyar, B. Borrillo
INT: Lawrie, Scanlan, Ba Sowter, Tyllis, O'Hanlon, Kreuger, Bo Sowter
Author:
South Adelaide Football Club