Round Six: South vs Adelaide - Teams
Posted by South Adelaide Football Club on 28 April 2016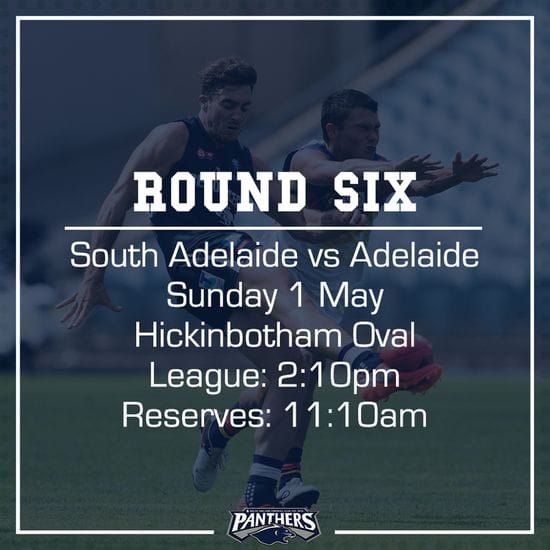 Panthers and Crows Battle for Top of the Ladder
South Adelaide will be looking to claim sole possession of top spot as they face Adelaide Crows SANFL side at Hickinbotham Oval this Sunday - League 2:10pm, Reserves 11:10 am (vs Eagles).
Both the Panthers and Crows have enjoyed a 4-0 start to the season and looked to be the teams to beat so far in 2016. However, only one side can remain undefeated after Sunday, with the winner leaping into pole position on the SANFL IGA League Ladder.
Brad Gotch has again gone with consistency at the selection table, with only two additions to the team that took down Central District by 31 points before the Panthers Round Five bye. Young guns Ben Heaslip and Tyson Brown have joined an extended bench after showing some fantastic form to start the year in the Reserves.
In the Reserves, Roland Ah Chee has overcome a back complaint and will return to the field for the first time since Round Two. Meanwhile, young defender Scott O'Shaugnessy will make his first appearance for the Panthers in 2016 in the seconds.
Round Six also marks White Ribbon Round supporting South Adelaide's Major Charity Partners, White Ribbon. So please give generously if you see any tin shakers at the ground to help put an end to domestic violence against women.
Following the game Jimmy Deane's will also be offering 2-for-1 Schnitzels in the Bistro. So why not hang around after the game and grab a bargain of a feed!
Round Six Teams
Proudly sponsored by


League - 2:10pm
F: Barnes, Haren, Overall
HF: Cross, Eddy, Hitchcock
C: Fields, Seccull, Irra
HB: Gulden, de Visser, Redigolo
FB: Daniel, Crabb, Rankine
R: Bass, Veide, Liddle
INT: Brown, Cailotto, Schwarz, Rose, Heaslip
IN: Heaslip, Brown
OUT:
Reserves - 11:10am vs Eagles
F: Need, Trembath, McMahon
HF: Anderson, Ellison, Szust
C: P. Kerin, Taylor, Moyle
HB: Kappler, Durdin, Haines
FB: O'Shaughnessy, Darrou, Bartram
R: Steffe, Nichols, Newell
INT: Ah Chee
IN: O'Shaughnessy, Ah Chee
OUT: Heaslip, Brown, Brooks, Fairlie
Under 18s
South Adelaide vs West Adelaide - Saturday 30 April - 2:10pm - City Mazda Oval
B. Millman, J. Fitzgerald, J. McKinnon, A. Albanese, J. Wright, D. Whimpress, J. Weller, N. Scanlan, R. Williams, J. Tylliss, R. Irra, C. Helyar, L. Fitt, J. Daniels, C. Williams, R. Mayes, S. Draper, S. Gurney, S. Lawrie, N. Kreuger, Bo. Sowter, Ba. Sowter, N. Steele, C. Lock, C. Smith, J. Brown
Under 16s
South Adelaide vs West Adelaide - Saturday 30 April - 11:50am - City Mazda Oval
H. Sampson, I. Lallard, J. Beeche, L. Bogle, J. Manuel, T. Coleman, F. Penn, L. Hutchinson, J. Colwell, J. Fitzgerald, S. Whitbread, R. Milsom, M. Short, T. Davies, E. Wilkinson, K. Jongenelis, Z. Dowling, F. Colman, B. Marshman, A. Douglass, J. Bradford, T. Sparrow, R. Crombie, L. Payne, L. Bradley, D. Sladojevic
Author:
South Adelaide Football Club