SANFL State Championship Results
Posted by South Adelaide Football Club on 20 July 2018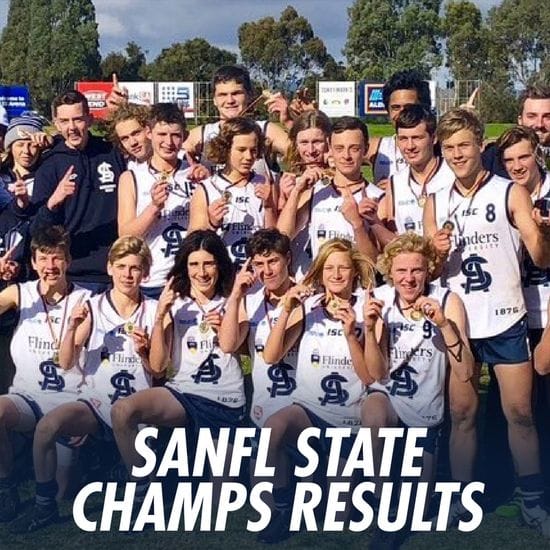 South Adelaide has enjoyed a strong SANFL State Championship campaign over the past week.
The Panthers fielded U15 Metro, U15 Country and U17 Youth sides in the intrastate matches, losing just one game across all three grades.
South's country boys claimed their first U15 Country title after an overtime thriller against Central District.
With the scores locked together on 6.6 (42) at the end of regulation, it was the boys in blue and white who finished stronger by kicking one goal to the Bulldogs' solitary behind during extra time.
Meanwhile, their Metro Zone counterparts fell just one win shy of Grand Final qualification earlier in the week, winning two of their three games.
The U17 Youth competition is split into two divisions - the Power Division (Norwood, South Adelaide, West Adelaide, Woodville-West Torrens) and Crows Division (Central District, Glenelg, North Adelaide, Sturt).
The Panthers claimed the 2018 Power Division title after winning all three of their round robin matches during the week.
See below a full break down of results from all three grades.
U15 Country Results
South Adelaide vs Norwood
Day 1 - Coopers Stadium - 17/07/18
| | | | | | |
| --- | --- | --- | --- | --- | --- |
| South Adelaide | 1.2 | 4.3 | 6.6 | 8.7 | 55 |
| Norwood | 1.4 | 2.4 | 2.7 | 5.8 | 38 |

Goals: Draper 4, Payne 2, Mitton, Hoeck
Best: Roberts, Draper, Birt, Norman-Brown, Payne, Headon
South Adelaide vs Woodville-West Torrens
Day 2 - Hickinbotham Oval - 18/07/18
| | | | | | |
| --- | --- | --- | --- | --- | --- |
| South Adelaide | 3.2 | 4.2 | 6.4 | 7.4 | 46 |
| Eagles | 0.0 | 3.4 | 4.5 | 6.8 | 44 |

Goals: Payne 3, Magor, Rogers, Hock, Williams
Best: Draper, Viney-Obst, Brunton, Johnson, Norman-Brown, Williams
South Adelaide vs West Adelaide
Day 3 - City Mazda Stadium - 19/07/18
| | | | | | |
| --- | --- | --- | --- | --- | --- |
| South Adelaide | 3.5 | 5.8 | 5.9 | 5.10 | 40 |
| West Adelaide | 1.1 | 2.2 | 4.6 | 4.7 | 31 |

Goals: Mitton, Payne, Roberts, Brunton, Draper
Best: Williams, Roberts, Draper, Rogers, Brunton, Magor
South Adelaide vs West Adelaide
Grand Final - Thebarton Oval - 20/07/18
| | | | | | |
| --- | --- | --- | --- | --- | --- |
| South Adelaide | 1.0 | 2.2 | 5.5 | 6.6 (ET 7.6) | 42 |
| Central District | 2.1 | 3.3 | 5.5 | 6.6 (6.7) | 38 |

Goals: Magor, Zimmer, Stichel, Mitton, Hicks, Payne, Hoeck
Best: N. Williams, Draper, Norman-Brown, Birt, Rogers, Headon
U15 Metro Results
South Adelaide vs Norwood
Day 1 - Coopers Stadium - 17/07/18
| | | | | | |
| --- | --- | --- | --- | --- | --- |
| South Adelaide | 2.3 | 4.4 | 5.5 | 7..6 | 48 |
| Norwood | 1.4 | 2.6 | 3.8 | 5.9 | 39 |

Goals: Daly, Copley, Morton, Gailford, Sweening, Horne
Best: Horne, Copley, Wibrow, Bonham, Greening, Ball
South Adelaide vs Woodville-West Torrens
Day 2 - Hickinbotham Oval - 18/07/18
| | | | | | |
| --- | --- | --- | --- | --- | --- |
| South Adelaide | 1.3 | 3.4 | 8.4 | 11.4 | 70 |
| Eagles | 1.1 | 2.1 | 2.1 | 3.3 | 21 |

Goals: Sable 4, Schillier 2, Snelling, De Laine, Horne, Kathopolius, Scott
Best: Leraye, Sable, Donham, Wibrow, Copley, Galliford
South Adelaide vs West Adelaide
Day 3 - City Mazda Stadium - 19/07/18
| | | | | | |
| --- | --- | --- | --- | --- | --- |
| South Adelaide | 0.2 | 2.3 | 2.3 | 2.6 | 18 |
| West Adelaide | 4.1 | 6.1 | 8.1 | 9.4 | 58 |

Goals: Sweeny, Brown
Best: Bonham, LeRaye, Copley, Snelling, Sweeny, Horne
U17 Results
South Adelaide vs Norwood
Day 1 - Coopers Stadium - 17/07/18
| | | | | | |
| --- | --- | --- | --- | --- | --- |
| South Adelaide | 2.4 | 5.6 | 6.11 | 12.13 | 85 |
| Norwood | 0.1 | 2.3 | 3.5 | 3.6 | 24 |

Goals: Riddle 6, Sweetman, Williams, Oliver, Helman, Kraemer, Reed
Best: Spicer, Riddle, Oliver, Williams, Pettiford, Penn
South Adelaide vs Woodville-West Torrens
Day 2 - Hickinbotham Oval - 18/07/18
| | | | | | |
| --- | --- | --- | --- | --- | --- |
| South Adelaide | 3.1 | 5.6 | 8.7 | 13.8 | 86 |
| Eagles | 2.2 | 2.3 | 4.3 | 5.5 | 35 |

Goals: Hamilton 6, Hayter 5, Stewart, Carpenter
Best: Holman, Hamilton, Sweetman, Hayter, Carpenter, Close
South Adelaide vs West Adelaide
Day 3 - City Mazda Stadium - 19/07/18
| | | | | | |
| --- | --- | --- | --- | --- | --- |
| South Adelaide | 0.1 | 1.4 | 3.5 | 5.6 | 36 |
| West Adelaide | 2.1 | 3.1 | 3.3 | 3.3 | 21 |

Goals: Hamilton 3, Reid 2
Best: Spicer, B. Hamilton, Oliver, L. Hamilton, Nye, Holman
Author:
South Adelaide Football Club