Seniors Report: Round 13 - South Adelaide vs Eagles
27 June 2016
Panthers best Matt Rose gets a kick away under pressure from Woodville-West Torren's Ethan Haylock. Image: Nick Hook Photography - check out Nick's full match gallery here
League Report
South Adelaide vs Woodville-West Torrens
Round 13 - Maughan Thiem Hyundia Oval - 25/06/16
| | | | | | |
| --- | --- | --- | --- | --- | --- |
| South Adelaide | 0.2 | 4.4 | 4.5 | 6.5 | 41 |
| Eagles | 2.3 | 2.6 | 8.7 | 10.13 | 73 |
Goals: McMahon, Cross, Rose, Rankine, Seccull, Veide
Best: Rose, Crabb, Brown, Durdin, Liddle
South Adelaide were unable to string together four quarters of football as they fell to a 32-point defeat at the hands of Woodville-West Torrens at Maughan Thiem Hyundai Oval on Saturday afternoon.
The loss sees the Eagles leapfrog South into second position on the ladder thanks to their superior percentage and with a game in hand.
The Panthers got off to a sluggish start, with a minor score to Brett Eddy and a rushed behind giving them just two points on the board at quarter time.
However, the tables turned in the second quarter as South piled on 4.2 to 0.3.
Some fierce forward pressure from Matt Rankine and a slick snap from Brede Seccull helped South get their first on the board.
Matt Rose also drifted forward to kick truly from a stoppage, his first goal of the season, while Joel Cross marked strongly 20m out directly in front to slot the Panthers third before Jake Veide soccered Rankine's long shot off the goal-line right on the halftime siren to cap of South's comeback term.
However, highlights proved hard to come by for the Panthers following the major break, with Woodville-West Torrens pouring on eight of the match's final 10 goals, including a 6.1 to 0.1 third quarter that all but ended South's hope of a comeback.
Recently promoted forward, Jackson McMahon followed up Brett Eddy's Mark of the Year contender with one of his own in the third term.
Check out Wacko's big grab below:
South Adelaide's regular key forward targets Eddy and Ben Haren, as well as livewire forward Rigby Barnes were held goalless, which severely limited the Panthers scoring ability that is usually amongst the best in the competition.
Much of the credit must go to the Eagles midfield division, who finished with seven players with 22+ disposals, as compared to the South's one and delivered their forwards 56 Inside 50s to 25 the other way. Overall Woodville-West Torrens won the possession count 349-297.
Rose was easily South's best performer, gathering a team-high 27 possessions and seven marks to go with his goal.
Meanwhile, fellow defenders Brad Crabb (13 touches and five marks), Tyson Brown (14 disposals) and Luke Durdin (10 touches) also played well as the Eagles bombarded South's backline in the second half.
140 Year Heritage Guernsey pre-orders are closing this week - don't miss out! Click below for more info: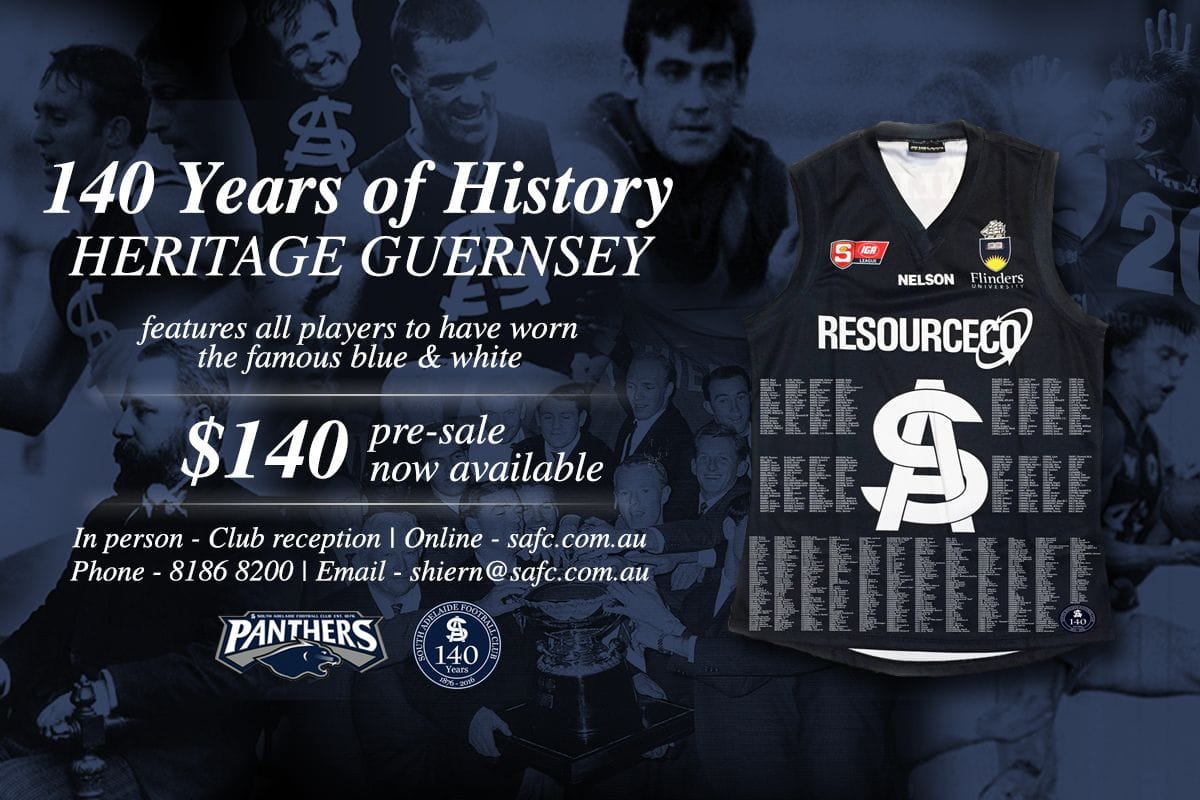 The Panthers must now re-group before tackling Norwood at Coopers Stadium this Saturday afternoon, with League action set to get underway at 2.10pm.
The match is also a triple-header, with South's Under-18s set to take on the Redlegs following the League game.
Stay tuned to the website for our Wednesday Match Preview and Thursday Night Teams!
Check out the full match highlights below:
Reserves Report
South Adelaide vs Woodville-West Torrens
Round 13 - Maughan Thiem Hyundai Oval - 25/06/16
| | | | | | |
| --- | --- | --- | --- | --- | --- |
| South Adelaide | 0.5 | 2.5 | 4.6 | 9.7 | 61 |
| Eagles | 2.1 | 5.8 | 10.10 | 12.12 | 84 |
Goals: Trembath 2, Anderson, Overall, de Visser, Need, Steffe, Newell, Ah Chee
Best: O'Shaughnessy, Overall, Newell, Bartram
South Adelaide's Reserves could not overcome a slow start against Woodville-West Torrens, falling by 23 points to the ladder-leading Eagles at Maughan Thiem Oval on Saturday afternoon.
The last time the two sides met, the Panthers put an end to the Eagles 27-game winning streak (that dated back through two Grand Final wins), claiming a 13-point win at Hickinbotham Oval.
However, back on home soil, Woodville-West Torrens outplayed South through three quarters, winning each term and taking a 40-point buffer into the final term.
As has been the case for much of the season, South finished the match strong, recording a 5.1 to 2.2 finals term. However, it wasn't enough to again upset the Eagles, who exposed South's defence time and time again with their hard running to win the possesion count 381-281 and handball receives 169-91 and converting this into a 53-25 advantage in Inside 50s.
That said, it was a gutsy comeback for a South side that was without Alex Cailotto through a late omission and lost Pat Kerin in the first term to an ankle injury and Nathan Daniel in the second to a concussion.
Young defender Scott O'Shaughnessy was judged best for the Panthers, playing an excellent team game despite his modest raw stats of 14 touches and five tackles.
Sam Overall continued to perform well since his omission from the League side, taking a game-high nine marks in his 18 possessions, while hard-running midfielder Richard Newell was a prolific ball-winner, amassing a game-high 32 touches to go with seven marks and a goal.
Young utility Rhys Bartram (15 disposals) also battled hard all afternoon.
South's Reserves next take the field against Norwood this Saturday afternoon, kickstarting a Panthers vs Redlegs triple-header at the Parade.