Seniors Report: Round 19 - South Adelaide vs Sturt
Posted by South Adelaide Football Club on 8 August 2016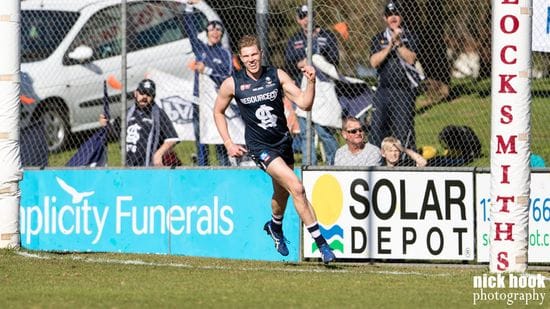 Fields 50: Tom Fields was outstanding in his 50th game for the Panthers and was best on ground against the Double Blues. Image: Nick Hook Photography - click here to view Nick's full gallery
League Report
South Adelaide vs Sturt
Round 19 - Hickinbotham Oval - 07/08/16
| | | | | | |
| --- | --- | --- | --- | --- | --- |
| South Adelaide | 5.2 | 8.3 | 12.4 | 16.6 | 102 |
| Sturt | 1.1 | 4.3 | 5.7 | 7.11 | 53 |
Goals: Haren, Hitchcock 3, Eddy, McMahon 2, Cross, Fields, Rankine, Bass, Barnes, Gulden
Best: Fields, Brown, Newell, Seccull, Cross, Gulden
The Panthers got off to a quick start on Sunday against Sturt, kicking the first five goals of the game and going on to a 49 point victory, vaulting themselves into second position on the ladder.
It was a sunny day at Hickinbotham Oval and with Tom Fields celebrating his 50th the boys in 'Blue and White' took it to the Double Blues and never gave them a shot at it. Sturt were unable to match the speed and intensity of the Panthers who controlled possession (+92 in disposals) and led the way at every major break.
The win somewhat avenging the 48 point loss the Panthers suffered at Unley in Round Eight earlier in the season.
South again proved that they are serious contenders in 2016, formidable in front of goal kicking an impressive 16 goals from just 22 scoring shots. The Panthers also had 10 players hit the scoreboard, Sturt had just two.
Tom Fields celebrated his 50th game for South in style, sneaking his way onto the goalkickers list with one of his 22 kicks (21 of which were effective) and also adding 12 marks, 3 inside 50 and 4 rebound 50s in a best on ground display.
The main concerns going into Round 19 (according to our Match Preview team comparisons) were Sturt's ability to win the ball at the clearances and their advantage in getting the ball inside 50 to their dangerous forward line.
However, the Panthers were up to the task, winning the clearance battle by two and the inside 50 by a margin of eight. Brede Seccull (25 disposals and 4 clearances) and Joel Cross (25 disposals, 7 tackles and 5 clearances) were instrumental in the middle for the Panthers.
Adam Gulden provided the South forwards good opportunity with seven inside 50s, while Tyson Brown continues to grow in confidence at League level and had another strong performance with 23 touches and seven marks.
Nick Schwarz returned to the league side this week after his huge performance for the reserves in Round 18, he was accompanied by Ben Haren who was a late inclusion (for injured Codey Ellison and Sam Overall) and made his mark with three major scores.
Gotchy and the rest of the coaching staff have tough decisions to make every week with a long list of players vying to get into the first team, the perfect position to be in heading into September.
Last week's win over West Adelaide secured South's position in the Finals, this week puts the Panthers on equal footing atop the ladder (tied with Eagles and Sturt), second on just percentage and has secured them the ever important double-chance come September.
South look now to North Adelaide at Prospect Oval in Round 20 for a big chance to add another win to their tally. Keep an eye on the website for game previews, teams and other club news coming throughout the week.
Watch all the Round 19 Highlights here

Daniel Delivers: Nathan Daniel made a successful return to football through the Reserves and was outstanding in the backlines, reading the play magnificently all afternoon. Image: Nick Hook Photography - click here to view Nick's full gallery
Reserves Report
South Adelaide vs Sturt
Round 10 - Hickinbotham Oval - 07/08/16
| | | | | | |
| --- | --- | --- | --- | --- | --- |
| South Adelaide | 4.1 | 8.8 | 9.10 | 17.11 | 113 |
| Sturt | 4.2 | 4.2 | 7.4 | 11.4 | 70 |
Goals: Trembath 4, Haines, Wray, Gillett 2, Irra, Heaslip, Jolly, Anderson, Bartram, Hawkins, Need
Best: Daniel, Trembath, Irra
South Adelaide's Reserves snapped a four-game losing streak, coming out 43-point victors after a scrappy match against the Double Blues.
The match was hotly contested from the first bounce and by quarter time the Panthers trailed by only a point, both teams kicking four goals in the opening term.
Although South were able to take control of the game in the second term, holding Sturt scoreless whilst kicking four goals of their own.
Nathan Daniel made his return to football after an extended period on the sidelines with concussion. Daniel was outstanding upon return, earning himself best on ground with 22 touches, seven marks and four inside 50s.
He helped South end the game with big margins in disposals (+49), clearances (+28) and inside 50s (+19).
Sturt came out strong after the major break and were able to contain the Panthers, winning the third term three goals to one and were looking to be building momentum to bring it home.
However, the fourth was a different story as Sturt were unable to carry their momentum from the third, and although high scoring, the Panthers were able to assert their dominance and run away with it, kicking 8.1 to 5.0in the final term.
Emmanuel Irra made his presence known around the ground and will further add to South's selection dilemmas with so many players pushing for League selection. E-Man amassed 31 disposals to go along with seven clearances and 19 uncontested possessions.
Josh Trembath was a big presence up forward yet again, kicking four goals from his 10 marks (three of which were contested) and snagged an even bigger bag if not for some inaccuracy in front of the sticks.
After his performance Josh now sits in contention for the Reserves leading goal scorer with a tally of 35 goals to his name. He is currently in third position, only three goals behind the Eagles Jackson Press.
South's Reserves sit in 5th position on the ladder, half a game behind North Adelaide who this week drew with Port Adelaide at 98 apiece.
In Round 20 the Panthers reserves come up against North at Prospect Oval for a chance to jump above them on the ladder.
Author:
South Adelaide Football Club