South Adelaide and KFC Seaford Rise cook up a winner
Posted by Matt Sampson on 19 March 2019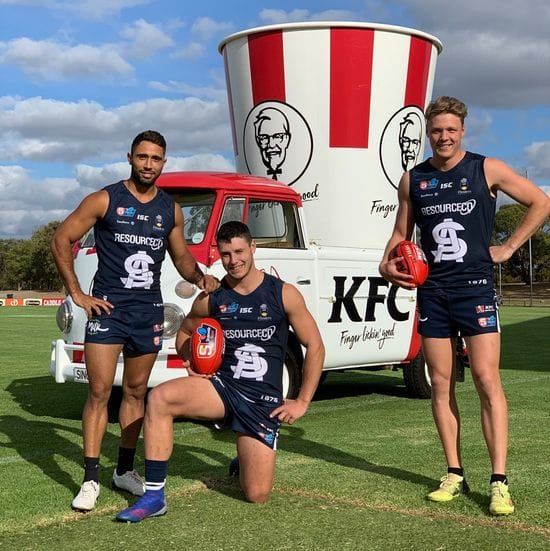 Finger Lickin' Good: South Adelaide Football Club senior footballers Malcolm Karpany, Liam Fitt and Ben Heaslip welcome new partners KFC Seaford Rise on board. Image: South Adelaide Media
South Adelaide Football Club is pleased to announce a new partnership with KFC Seaford Rise, as the club partners with another prominent business in the southern community.
The Panthers welcome KFC Seaford Rise on board as part of a two-year agreement that will see their branding appear on the club's male game day shorts.
South Adelaide Chief Executive Officer Neill Sharpe said the club was looking forward to forging a new relationship with another southern based business.
"It is an exciting time when you can welcome a new partner to the club," said Mr Sharpe.
"We are very grateful for KFC Seaford Rise putting their support behind our football programs and the assistance it provides in continuing the growth of football in the southern region.
"We are looking forward to creating a strong relationship and sharing the journey of the upcoming season and beyond together."
David Radcliffe, KFC Franchisee Partner said it was an easy decision to support another southern organisation with similar community values.
"Community is a huge part of what we do at KFC, particularly with the launch of our new KFC Youth Foundation, which aims to build confidence in young Aussies," said Mr Radcliffe.
"Being committed to our new partnership with South Adelaide, who hold those same community values, is really exciting and we look forward to building a closer relationship with the club over the coming years."