South Adelaide to Proudly Wear White Ribbon on Traditional Navy Guernsey
Posted by South Adelaide Football Club on 19 April 2017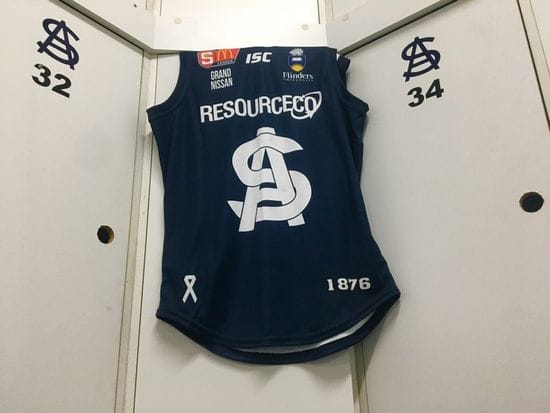 South Adelaide Football Club is honoured to reveal a new addition to its 2017 playing kits, with the White Ribbon logo placed proudly on its traditional navy guernsey, to raise awareness against domestic violence against women.
The Panthers have proudly supported White Ribbon since 2013, hosting annual White Ribbon Rounds and inviting White Ribbon Ambassadors to share their stories with the club's senior and junior playing groups and educate them on the effects of domestic violence against women.
"At South Adelaide we not only pride ourselves on developing excellent footballers, but also at educating and nurturing young men into upstanding members of their community," said South Adelaide Chief Executive Officer, Neill Sharpe.
"Men play a pivotal role in helping put an end to domestic violence and playing our role in educating these men is something we strongly believe in.
"We are very proud to display the White Ribbon logo on our guernsey and help bring awareness to our supporters and the wider public."


I Swear: South Adelaide and Adelaide players take the oath against domestic violence against women in 2016. Image: Nick Hook.
"The commitment of the South Adelaide Football Club is a great move forward in ending violence toward women," said White Ribbon Ambassador Tod Stokes.
"South Adelaide's commitment over the past few years has shown great leadership in this area.
"To end men's violence against women we must stand up, speak out and act. Silence and inaction will let this violence continue."
In 2016 South Adelaide was presented the Flame of Change Unifying Support (FOCUS) Award for Outstanding White Ribbon Event by an Organisation for their White Ribbon Round, which saw the Club host a White Ribbon luncheon prior to the game and the senior team take the oath against domestic violence prior to the start of the match.
In Round 18 this season (weekend of August 26) South Adelaide will again be hosting a White Ribbon Round against the Adelaide Football Club.
Author:
South Adelaide Football Club