Betta Teams | KI Cup
15 January 2020
South Adelaide name their starting XI for Tuesdays T20 against the Southern District Cricket Club to raise much needed funds for Kangaroo Island.
The Panthers side headlined by Captain Sam Overall, and two time Magarey Medallist Joel Cross have added Australian and Redbacks player Chadd Sayers into the line-up.
The right-arm medium bowler made his test debut for Australia against South Africa in 2018 in the now infamous series.
In his first test in Johannesburg, Sayers took the prize scalp of AB de Villiers for his first Test wicket.
Joining Sayers is former South and Western Australian right-arm fast-medium bowler Trent Kelly and right-hand batsman Tom Plant.
Plant is the all-time run scorer for the Glenelg Cricket Club after taking the honour in 2017.
New recruit and former Port Adelaide player Matthew Broadbent, will put on the blue and white for the first time, along with former captain and KI native Brad Crabb.
Former South Adelaide player Ben Warren, who returns to Flinders University Stadium as an assistant coach will put on the blue and white for the first time since retiring in 2010.
Tom Whittlesea, Alex Cailotto and Senior Coach Jarrad Wright round out the starting XI with Tyson Brown being named as the 12th man.
"We're looking forward to the challenge of taking on the Stingrays, but more importantly looking to raise crucial funds to assist with recovery efforts on Kangaroo Island." said South Adelaide CEO Neill Sharpe
"We certainly encourage both Panthers and Stingrays supporters along with the local community to come and support the event"
"We think we've put together a strong line up that will challenge the Stingrays"
Sharpe said that on the night another fundraising initiative is that for every 6 hit by the the Panthers, the club will donate $100 to the Western Disricts Football Club, for every 6 hit by the Stingrays, a South Adelaide player will donate $50, and for every dropped catch by a Panther player $25 will also be donated.
The Southern Stingrays XI will include former West Indies captain Carl Hooper, and South African test cricketer Johan Botha.
This important fundraiser kicks off at 5pm next Tuesday at Bice Oval, with a gold coin donation upon entry, and fantastic raffle prizes, silent and live auction on offer on through night.
There will also be jumping castle and football activities for the kids around the ground.
What: SAFC vs SDCC
Where: Bice Oval (Christies Beach)
When: Tuesday, January 21. 5:00 PM start
Tickets: Gold coin donation on entry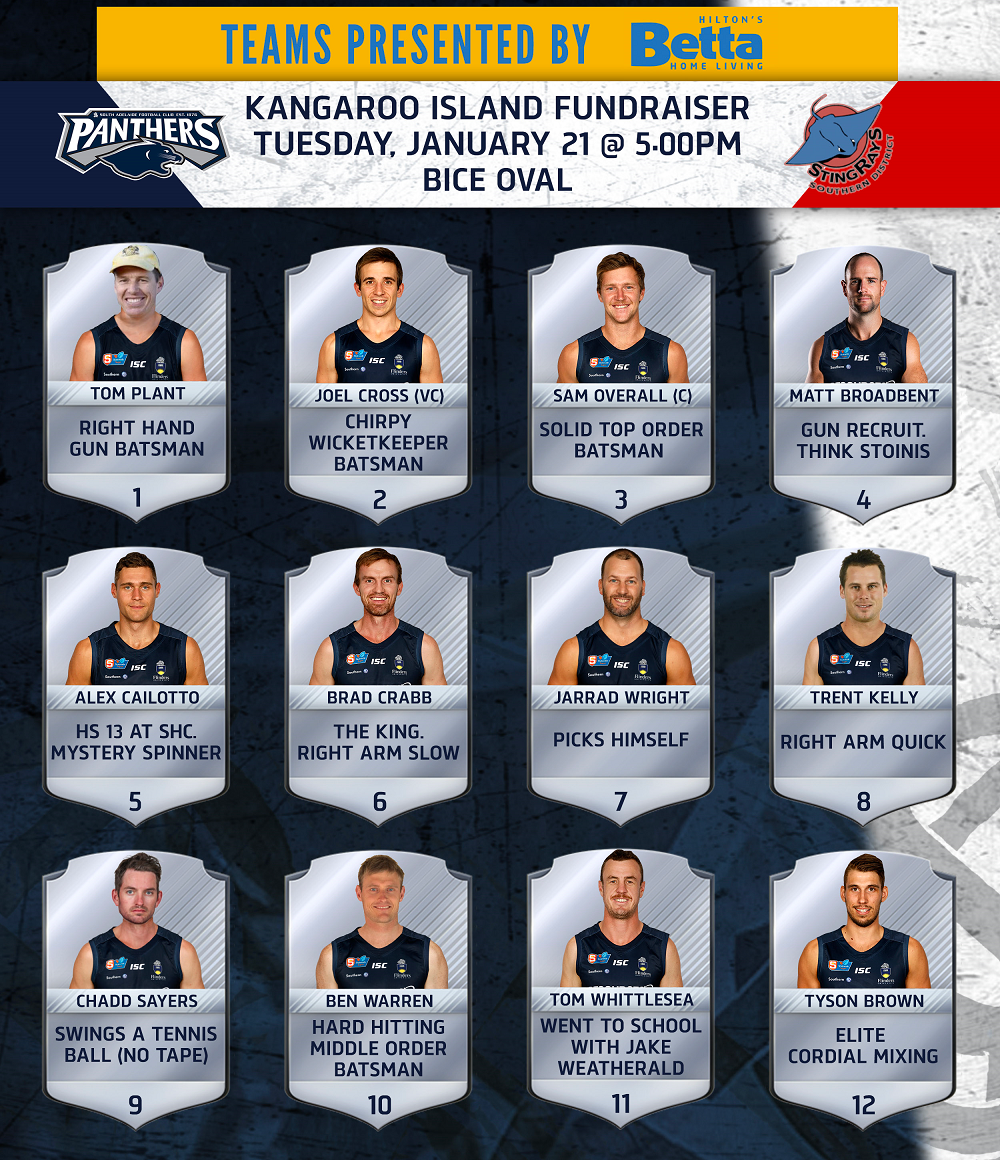 Changes
In: Kelly, Plant, Sayers, Warren
Out: N/A
New: Kelly (Redbacks/Warriors/Western Eagles), Plant (Redbacks/Seahorses), Sayers (Australia), Warren (Langhorne Creek)