Under-18 Match Report: Round 18 vs West Adelaide
Posted by Jayden Bartlett on 30 August 2021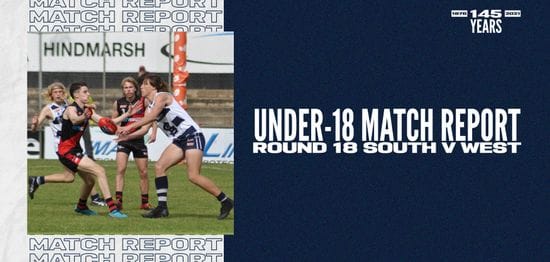 Under-18 Match Report
South Adelaide vs West Adelaide
Round 18 - Hisense Stadium - 28/08/2021
| | | | | | |
| --- | --- | --- | --- | --- | --- |
| South Adelaide | 5.4 | 5.5 | 6.7 | 10.9 | 69 |
| West Adelaide | 1.2 | 5.7 | 9.12 | 12.15 | 87 |
Goals: Cockshell 4, Pearsons 2, Delean, Howes, Pilmore, Verrall
Best: Miller, Cockshell, Daniell, Verrall, Bradley, Hoeck
The South Adelaide Under-18s suffer a three-goal loss against the fast-finishing Bloods at Hisense Stadium on Saturday.
The Panthers burst out of the box with a 5-goal opening term, but they were unable to hold off West Adelaide who stormed home to hand South a 10.9 (69) to 12.15 (87) point loss.
Leading the disposal tally was Lachlan Hayeswho finished with a game-high of 31 touches. Meanwhile, up forward, Koby Cockshell kicked 4 goals—all of which came during the second half.
Facing off against the third-placed Bloods, the fourth-placed Panthers pounced early with 4 unanswered goals within the space of 10 minutes.
This goalkicking frenzy gave South Adelaide a promising 5.4 (34) to 1.2 (8) lead at the first break—however, the Bloods quickly clawed themselves back into the match.
The boys in the blue and white could only muster a sole behind during the second term, while the home side registered 4.5 (29) to snatch a 2-point lead at halftime.
The Bloods, who collected 47 inside 50s to the Panthers' 29, continued to break the game open during the third term. Cockshell's first goal of the game, which came 9 minutes into the third term, was South's first since the closing seconds of the opening quarter.
Trailing 6.7 (43) to 9.12 (66) at the final change, the Panthers had plenty of work to do if they wanted to end the minor season with a victory.
However, things went from bad to worse for the boys in the blue and white as the Bloods opening the scoring during the final term with 2 goals in 4 minutes. Yet, refusing to roll over, the Panthers attempted a fightback.
Cockshell got things going with back-to-back goals in 2 minutes—he then registered his fourth major of the day as the game entered its final 5 minutes.
With the deficit at just 2 goals, a Bloods goal during the dying minutes all but sealed the Panthers fate. A Ryan Pearsons goal, his second of the day, came in the final minute but by then the 10.9 (69) to 12.15 (87) result was unchangeable.