Under 18s Report: Round 10 - South Adelaide vs Sturt
Posted by South Adelaide Football Club on 18 June 2018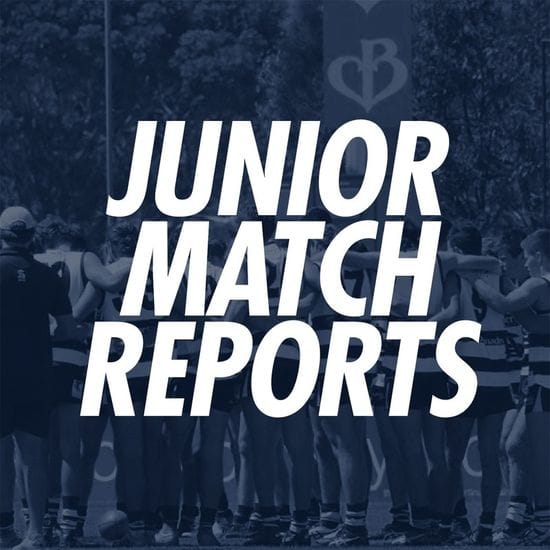 Under-18s Match Report
South Adelaide vs Sturt
Round 10 - Peter Motley Oval - 17/06/18
| | | | | | |
| --- | --- | --- | --- | --- | --- |
| South Adelaide | 0.2 | 2.3 | 5.6 | 6.9 | 45 |
| Sturt | 2.3 | 3.6 | 4.6 | 5.9 | 39 |

Goals: Renney 2, Spinks, Jones, Freitag, Marshman
Best: Davies, Bogle, Renney, Lovering, Coulthard, Marshman
Our Under-18's claimed a hard-fought win over Sturt at Unley Oval on Saturday.
This week we played Sturt for the second week in a row and for the third time this year.
We travelled to a wet and slippery Unley Oval in average conditions, but were able to win a close, hard fought, contested game; running out 6.9 (45) to 5.9 (39) winners.
We had nine changes going into this week, including another two players playing their first game with the Under-18s in Zac Dowling and Under-16 Shannon Jones.
Robert Irra was able to play due to our Reserves having a bye and Nic Robertson played his first game in our Under-18s for almost 12 months after breaking his leg last year.
The first quarter we looked like we were going to score a few times, but could not finish off the hard work of our mids and backs.
Tyler Davies lead the way with 10 disposals and seven tackles, which set the scene of how the day was going to be competed.
Going into halftime, we hit the sheds down only nine points and were lucky Sturt didn't capitalise on a couple of late opportunities.
With the conditions being so poor, goals were at a premium and we had handed Sturt two of their three goals of the back of two 25m penalties.
In the third quarter we addressed our over use of the footy and played more direct, which paid of with us kicking 3.3 to Sturt's 1.0 and gave us a six-point lead going into the last quarter.
The last quarter went much the same as the rest of the game with repeat stoppages and both teams having chances but not being able to finish as well as they would like.
With about two-and-a-half minutes to go and the score tied, we were on the good end of an anti-density rule which gave Bailey Marshman a shot for goal to put us six points up.
The last couple of minutes we got numbers around the contest and were able to bottle the game up.
Felt like we got out of jail with that one, but pleasingly another win that holds us in second on the ladder.
Next week we play Central District again on Saturday morning at Hickinbotham Oval.
Mark Clayton
U18s Coach

Author:
South Adelaide Football Club