Vale Ron "Squizzy" Taylor
14 February 2022
The South Adelaide Football Club is saddened to learn of the passing of former Club Secretary Ron "Squizzy" Taylor.
Squizzy was the Club's Secretary/General Manager starting in 1973 until 1979. He initially started as assistant secretary seven months prior to his appointment having joined the Club from North Gambier.
Soon after his appointment as secretary it was noted in the 1973 Annual Report, "The friendly competence he has already shown confirms the wisdom of his appointment".
Six years later the 1979 Annual Report followed a similar theme –
'For six years now, Ron Taylor has maintained a pace that would have had most ordinary people reeling. The experience he has gained, added to his natural energy and enthusiasm, qualify him for inclusion in the top rank of Club Administrators. Our continuance on the upward trend, whilst giving Ron a great deal of pleasure and satisfaction, certainly does not ease the pressures exerted on him. His efforts are backed by the active support of his family, which has been of enormous benefit to the club.'
Former player and coach John Reid, who was an assistant coach to Haydn Bunton during this time, remembers Squizzy as a genuine character and someone with a tremendous work ethic.
"He would do it all. He'd even cook us up a big stew every night we had match committee. He was such a hard worker and just a good bloke."
Reidy remembers the impact of Squizzy losing a son Wayne in a tragic car accident, but he kept turning up and doing his job, but "you could see it hurt him deeply".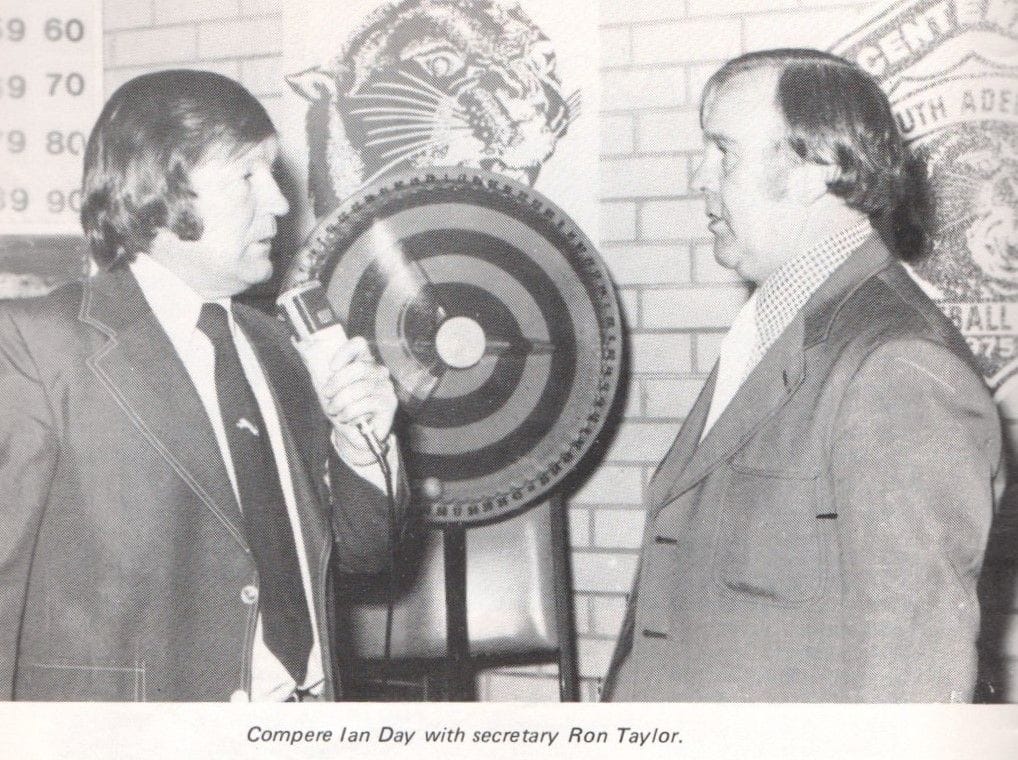 Ron Taylor (right) with Ian Day (left) during a club presentation night.
Squizzy himself acknowledged his family in a section entitled 'Secretary's Appreciation':
'In closing I must record my thanks to my own family for their sterling support throughout the year and would hope that from our move from Cowandilla to St Marys the pressure brought to bear over the past six years may to some extent be relieved. However, my sincere thanks go to them.'
A player during this period David Earl has similar memories of Squizzy's work ethic and could even recall seeing Squizzy on the mower cutting the grass such was the breadth of his role.
But Early also does have some funny memories.
"I was a young player and we had a pre-season game against a combined team from the South-East. Squizzy set the game up and I assumed it seemed a good idea at the time. However, this team wanted to prove they were better than us. I spent the game hiding behind Peter Darley. We were lucky to escape with our lives."
Early fondly recalls another trip to Surfers Paradise where Squizzy fell asleep on the pool deck.
"When he woke he was red raw. We were putting lotion on him for days. He could hardly move."
The South Adelaide Football Club offers its condolences to wife Barb and children Daryl, Kym and Sue.