Women's Match Report: Panthers fall to Glenelg at the Bay
Posted by Matt Sampson on 15 April 2019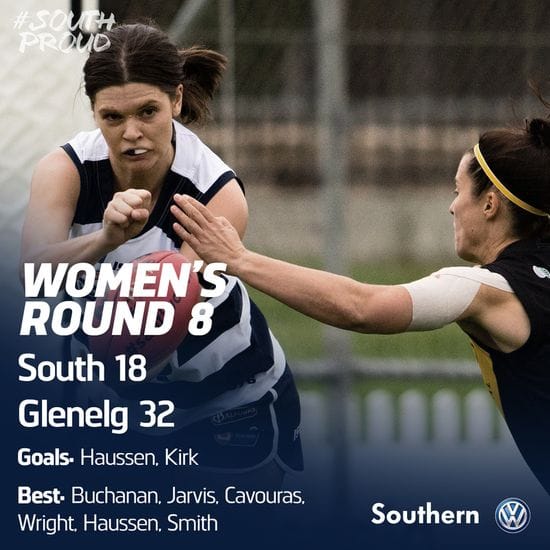 SAFCW Match Report
South Adelaide @ Glenelg
Round 8 - ACH Group Stadium - 13/04/19
| | | | | | |
| --- | --- | --- | --- | --- | --- |
| South Adelaide | 0.1 | 0.1 | 1.2 | 2.6 | 18 |
| Glenelg | 1.0 | 3.1 | 3.2 | 5.2 | 32 |

Goals: Haussen, Kirk
Best: Buchanan, Jarvis, Cavouras, Wright, Haussen, Smith
Injuries:
South Adelaide's senior women fell short against Glenelg at ACH Group Stadium on Saturday afternoon

.
The loss puts an end to a five-game winning streak for the Panthers and brings third and fourth-placed North and West within a game of the reigning premiers on the ladder.
The Panthers had the first scoring shot of the game, a running effort from Indy Tahau that drifting wide. It would prove to be South's only score until deep into the third term.
Glenelg came out with greater intensity and tackling pressure than the visitors in the first term and were rewarded with the only major score of the quarter.
Ellen Fauser was the recipient of a high tackle free kick and made no mistake with her set shot from the top of the goal square.
Young Tiger Lauren Bungey gave her side a three goal buffer at halftime thanks to two quick goals in the second term.
The first from a goal mouth scramble and the second a classy snap shot after gathering a contested ground ball.
It put the Panthers in an unfamiliar position, as they stared down their second biggest halftime deficit of the season.
Skipper Lauren Buchanan was fighting hard for her side, while Elke Jarvis battled admirably in defence in her first game of the season.
However, without their usual guns firing in the middle of the ground, Glenelg worked their way into control of the stoppage battle, winning 30 clearances to 19 for the game.
The Bays were also controlling the football in the confined spaces of ACH Group Stadium, winning the lions share of the possession count.
South began to find their feet in the second half, with a goal in the third to Elyse Haussen and a Jess Kirk major in the fourth cutting the Bay lead to four.
However, rapid fire goals to Bungey and Samantha Franson deep into the final term put the result beyond doubt.
Round 9 action sees the Panthers return home to Flinders University Stadium for a Grand Final rematch with Norwood on Easter Saturday (Saturday, April 20).
Women's league action gets underway from 12:30pm, followed by the League game between South Adelaide and Adelaide from 2:40pm.