BETTA Squad Selection: Trial 2 vs West Adelaide
Posted by Jonathon Parker on 11 March 2021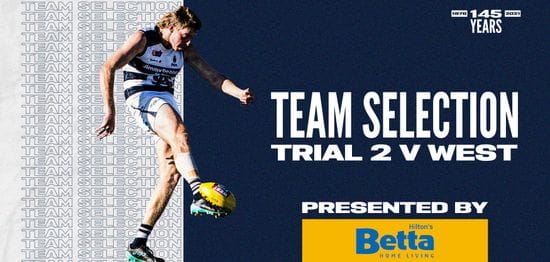 South Adelaide League and Reserves take on the Bloods in Trial 2.
After a decent hit out against the Magpies last week, the Panthers League and Reserve sides look to take another step in finalising the sides come round 1.
New recruit Sam Skinner will have his first hit out with his new team mates since coming across to Adelaide over the weekend.
Meanwhile, Joel Cross will have his first run of the new year.
The reserves kick off at 5:15pm at Hisense Stadium, followed by the League at 7:30pm
If you are planning on attending the trial, please maintain social distancing and follow COVID Safe directions.
What: Panthers @ Bloods
Where: Hisense Stadium
When: Friday, March 12, Reserves 5:15 PM | League 7:30 PM
Tickets: Free Entry
| League Squad | Reserves Squad |
| --- | --- |
| Biemans | Dumesny |
| Bogle | Clifton |
| Broadbent | Tucker |
| Brown | Machin |
| Cailotto | Lippett |
| Cross | McCreery |
| Fitt | Flett |
| Freitag | McGree |
| Gibbs | McKinnon |
| Haines | Roberts |
| Haren | Coleman |
| Heaslip | Douglass |
| Horne | Sawford |
| Kappler | Colwell |
| Loneragan | Davies |
| Milsom | Lovering |
| Overall | Nye |
| Rose | Gaden |
| H.Sampson | Elsworthy |
| Schwarz | Whitbread |
| Skinner | Nobes |
| Summerton | Hindes |
| Tarca | Little |
| Turner | Kraemer |
| | Spacie |
| | Griffiths |
| | Martin |